Kabrita Goat Milk Stage 1

Kabrita Goat Milk Stage 1
Why we love Kabrita Goat Milk Stage 1: Nutritionally complete for babies 0 – 6 months Skim goat milk from Netherlands No added sugars or preservatives No wheat, soy, or maltodextrin Omega-3 and 6 LCPs (DHA) for brain development (without hexane extraction) GMO free Main Carbohydrate is lactose 800g / 28oz of formula powder
All avaliable products are in the cart
Express Shipping: 2 - 6 business days.
Limited availability in stock.
Fast & Free Shipping
Available on 6, 8 & 12 pack orders.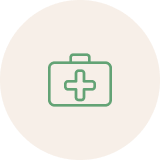 See Pediatrician
We always recommend speaking to your pediatrician before use.
Guaranteed Fresh
At least 6 months until expiration on all products.
Express Delivery
2-6 business day shipping available at checkout.
Subscribe & Save 5%
Never worry about your supply. Cancel anytime.
24/7 Customer Service
Because we know how important this is to you.
Product Description
Kabrita stage 1 goat milk formula is perfect for babies from 0-6 months. This well known formula is perfectly suited as a substitute to breast milk or to use as a complement to nursing. In powdered form, Kabrita stage 1 baby formula arrives in 800g of ready to mix nutrition.

Manufactured under strict European infant certification Kabrita stage 1 contains zero pesticides, herbicides, steroids, or chemicals. All Kabrita formulas are made from this 100% natural, premium Dutch goat milk with the addition of important, vital ingredients, including a fat blend with Beta- palmitate.

Beta-palmitic acid is a natural fatty acid found in human milk and influences metabolism and improves mineral balance. Similar to breastmilk, Kabrita's Goat milk formula has oligosaccharides that act as a natural prebiotic, making digestion and absorption easier.


In fact, goat milk has about 10 times the number of oligosaccharides than those found in cow's milk and goat's milk has higher amounts of vitamin A, riboflavin, calcium, potassium, and niacin, which all play a part in the 22 vitamins and minerals found in Kabrita baby formulas.

Families love the taste and smell of Kabrita goat milk based formulas describing it as being mild, light, fresh, and absolutely delicious. Easy on even the most sensitive digestive systems, Kabrita's A2 protein is naturally made to be easily digested and the nutrition absorbed so that your little one can grow, develop, and thrive.