Holle A2 Stage 3 Organic Baby Formula (400g)

Holle A2 Stage 3 Organic Baby Formula (400g)
Why we love Holle A2 Stage Three Great for toddlers from 1 year plus No added sugar, GMO Free Milk from cows with A2 beta-casein protein type, not A1 cows Label in English for easy to read Free from artificial chemicals, preservatives, and flavors Biodynamic, Demeter, and Organic Certified (Organic ++) Chemical-free farming and positive animal husbandry Main carbohydrate is lactose 400g / 14.11 oz of formula powder **Product comes in 400g box**
All avaliable products are in the cart
Express Shipping: 2 - 6 business days.
Limited availability in stock.
Fast & Free Shipping
Available on 6, 8 & 12 pack orders.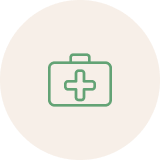 See Pediatrician
We always recommend speaking to your pediatrician before use.
Guaranteed Fresh
At least 6 months until expiration on all products.
Express Delivery
2-6 business day shipping available at checkout.
Subscribe & Save 5%
Never worry about your supply. Cancel anytime.
24/7 Customer Service
Because we know how important this is to you.
Product Description
Holle A2 Stage 3 is perfect for toddlers from 12+ months. If you want a formula that provides all the essential nutrients your growing toddler needs without additives—look no further! This high-quality A2 baby formula comes with 800g formula powder per container.

Since 1933, Holle has been producing top quality baby food products, ensuring parents have the very best options for their little ones. In the past decade, Holle stretched their products to the next level, providing environmentally friendly products as well by transitioning to Demeter certification.

Looking for a formula that helps your toddler with their gut digestion and sensitivity? Holle A2 milk is a fantastic option. Sure you can buy the A2 milk from the shelf at the local grocery store, but why not continue the full organic experience for the first two years of your precious one's life?

A2 milk from Holle is fully organic and Demeter certified, which means your toddler gets the best of both worlds, organic and A2 milk. Why choose an A2 milk option for your little toddler? A1 cows do not make proline, so BCM 7 is left to wreak havoc with digestive health until it dissolves in the blood. The simple switch from A1 to A2 cow milk can make a world of difference in your toddler's health.

All formulas are made with 100% organic A2 cow's milk and blended with a variety of vitamins and minerals for optimal nutrition. Holle is high in the essential vitamins and minerals your toddler needs. Additionally, DHA and ARA are added to support muscle, eye, and brain growth.

All formulas are EU Organic Certified. What does this mean? You will never see preservatives, soy, sugar, or GMOs used. Furthermore, EU Organic Certified formulas must undergo multiple quality checks before even leaving the factory.

European formula standards are beyond any standards found in America, which is why many parents are choosing European formulas for their toddlers. Making the transition to EU formulas is a decision your growing toddler will strongly benefit from, even more so choosing Holle as your favorite brand.
"The nutrition an infant receives, particularly up to the first year of life, will have lifelong effects on the growth and developmental abilities of the child as well as susceptibility to future medical illnesses"
- Dr. Jatinder Bhatia, MD, FAAP, leading Pediatrician