HiPP Anti-Reflux Organic Baby Formula

HiPP Anti-Reflux Organic Baby Formula
Why we love HiPP Anti-Reflux Great for babies from birth and up No added sugar Organic locust bean gum makes this creamier and easier for babies with reflux / spit up Essential non-synthetic vitamins and minerals Vitamin D for better calcium absorption and bone strength Vitamin A and C for a healthy immune system Calcium for healthy bones NO wheat, soy, or peanut ingredients. Gluten-Free Omega-3 and 6 LCPs (DHA and ARA) for brain development Main carbohydrate is lactose GMO-Free 500g / 17.6oz of formula powder
All avaliable products are in the cart
Express Shipping: 2 - 6 business days.
Limited availability in stock.
Fast & Free Shipping
Available on 6, 8 & 12 pack orders.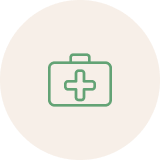 See Pediatrician
We always recommend speaking to your pediatrician before use.
Guaranteed Fresh
At least 6 months until expiration on all products.
Express Delivery
2-6 business day shipping available at checkout.
Subscribe & Save 5%
Never worry about your supply. Cancel anytime.
24/7 Customer Service
Because we know how important this is to you.
Product Description
Hipp is a brand trusted by families for years; founded in Germany in 1899, making them one of the oldest formula producing companies on the market today! Since 1956, they have focused on organic-biological agriculture, and because of this effort they work with a network of over 6,000 contract farmers - currently they are one of the largest processors of organically produced raw material!

Hipp was the first major European food producer to introduce an EMAS-based environmental management system as well. In fact, 97 per cent of all waste is now recycled, and the HiPP sites in Germany, Austria and Hungary operate carbon-neutrally even though production has doubled and the company's product range has expanded to over 260 different products.

Hipp cares about your families, just as much as we do here at MyOrganicCompany, which is why we love offering their best products to you!