Check the list below for answers to our frequently asked questions. If you don't see your question, or think another question should be added to the list, please contact us at customercare@myorganiccompany.store
Why should I buy European formula?
European formulas have a stricter regulation on their baby formulas/foods. They contain no preservatives, no added cane sugar, no high fructose corn syrup, absolutely no soy (in some brands/stages), no gluten, no flavorings, and no coloring. Basically, they have a higher standard which can be beneficial for your baby!
Furthermore, the formulas here at My Organic Company are all organic - from grass fed cows. These cows have not received hormone or antibiotic treatments that could be potentially dangerous to your little ones. We even offer Demeter certified Organic formula (something that you can't find on the shelves in America). This means the environment is being taken care of as well as the cows - it is like organic ++
Why can't I buy your formula in the local grocery store?
Unfortunately, the formulas we sell are not FDA approved; this means they are unable to be sold at your local grocery store. However, they are European Union (EU) Certified, and as was mentioned before, this is a much higher standard than the FDA.
The companies like HiPP, Holle, and Lebenswert already have an established brand and product being sold all over the world! Due to our government regulations, unless these companies want to spend perhaps millions of dollars to fight for FDA approval, they will have to avoid selling in America.
However, we want to offer the same opportunity European babies have to the American babies.
In fact, our moms here at My Organic Company trust and love our products so much, they use them with their own babies. These formulas are perfectly safe, and offer a better option. If you are like the moms here and have felt disappointed reading the ingredients of the formula offered at your local grocery store, then you have came to the right place. And thankfully we are able to help the big companies still distribute their amazing products in the American market!
How do you safely ship and store your formula? 
We are direct distributors of the brands. Our products have been carefully chosen and sourced from certified distributors within Germany.
All our fulfillment centers are designed to keep formulas cool during the summer and stored in regulated temperatures.
Our products are free from any radiation exposure, shipped safely, and kept in clean & climate-controlled facilities.
Furthermore, our products follow the same regulations when it comes to organic farming.
Do you sell damaged boxes?
No. There are companies that sell damaged boxes for discounted prices, and you can also find those on eBay. Here at My Organic Company, we want to ensure the boxes you receive are completely SAFE. Even if the box is slightly dented and sealed when we receive it from our distributors, we will NOT sell it on our website.
Rest assured, the boxes you receive from us are in perfect condition and packaged safely. We ship our boxes inside of boxes to ensure protection and we also add environmentally friendly packaging to provide extra-cushioning.
If you do happen to receive a shipment that is damaged, just let us know at customercare@myorganiccompany.store
Please refer to our return policy as well for more questions regarding this topic.
What is your shipping policy?
We offer completely FREE Shipping!!! Please see below for more information on this.
Warehouse Information
Multiple Warehouses across the US = fast & affordable shipping

Due to high volume peaks, please allow 12-24 hours for processing fulfillment
Shipping Times
Shipping Times
FREE USA SHIPPING: (Mo-Fr) 2-6 Business Days with USPS (not used for 6/8/12 packs)
*If ordered before 12 pm CST
USPS (Mon-Fri)
1-3 business days - USPS Priority

2-8 business days - USPS Parcel Select Ground
UPS (Mon-Fri)
1-5 business days - UPS Ground

1-3 business days - UPS 3 Day Select

1-2 business days - UPS 2nd Day Air

Overnight 1 business day - UPS Next Day Air (overnight on Friday means arrival on Monday)
DHL Express
3-5 business days (if it has been more than 5 business days, please contact us immediately!)
*Please note that the expected delivery date is provided by the Courier, and is subject to change.
**For any delays or questions on orders, please contact the Courier directly as we are only can be held liable to send it with your pre chosen service provider. Also, please allow extra time if ordering during the busy holiday season to account for larger demands on carriers.
Please Note: that we are using different shipping operators and aren't responsible for problems caused by the carrier.
**We offer optional special Insurance at checkout for your orders to be safe!!**
Not in the USA? WE DO NOT SHIP INTERNATIONALLY
Shipping Carriers
**Your carrier will be selected based on your location and the size of your order. If you request a specific shipping courier of your choice, additional fees may occur. We send tracking information to all orders regardless of the carrier we are using.
**Please note that USPS does not guarantee their shipping time - therefore we insure every package up to 99.00 USD.
My Organic Company is not responsible for shipping delays since it is not in our hand. If your item is damaged or lost during shipping, you may file a claim with the carrier. We cannot guarantee delivery of your package, only that your package will be shipped.
Packages
Orders packed in an additional box but still might arrive damaged

We send orders in perfect condition and are always sealed

If the box gets damaged by the carrier, the product itself is safe and still in perfect condition

All orders will be shipped in a box as they offer the most protection
Lost Or Missing Packages
For 6/8/12 pack orders - if it has been more than 5 business days and your order has not arrived, please contact us immediately!!
If your tracking information shows that your package was delivered, but you can't find it:
Within 36 hours of expected delivery
Verify the shipping address

Look for a notice of attempted delivery

Look around the delivery location for your package

See if someone else accepted the delivery

Check your mailbox or wherever else you receive mail.

Wait 36 hours - in rare cases packages may say delivered up to 36 hours prior to arrival

If your package does not arrive and was lost or stolen, please note that we are sending all orders using either FedEx or USPS and can not be held liable for packages lost by the carrier. All packages are insured up to 99 USD.
**In the random case of your package not arriving, please note that you will have to file a claim online by going to the carriers website. In order to be considered lost, a package must be undelivered 24 hours after the expected delivery date and time. A report cannot be made until then. After filing a claim it takes 5-10 business days for a response and approval for any insurance claim to be resolved by the carrier.**
Please allow additional time when a package is delayed due to adverse weather.
*Unfortunately we can not file a claim due to USPS and FedEx regulations. Once you have the claim confirmation from the carrier, please contact us, providing the CLAIM number (not the case number) with carrier approval for refunds, and we will gladly issue you a refund.
Again, please note that all packages are only insured to a 99 USD maximum. If you want additional insurance please choose at checkout. You can visit FedEx or USPS to file a claim.
Will you sell other formulas?
Absolutely! We will consider any formula that can meet the same strict standard that the EU has regulated on their baby formulas. For example, our most recent addition of Loulouka met the standards and we have sold many boxes to our parents (including our staff).
If you have suggestions or requests, please let us know at customercare@myorganiccompany.store!
When should I switch to formula?
This is a choice only you can make. Every mom has different reasons and needs to switch to formula, and it is best to consult your pediatrician for advice.
We suggest that when you transition, you do it slowly and gradually to help your baby adjust as smoothly as possible. Also note, you can use formula to supplement your breastmilk in case you have slowed in production.
In any case, we know that choosing formula is a decision that should be well thought-out. We encourage moms to breastfeed for as long as possible! But if it is time to switch to formula, we are glad that you are choosing the best formula your baby can get!
How do I choose the right formula?
There is no quick and easy answer to this question. Every baby has different needs and choosing the correct formula depends on multiple factors. Please refer to our quick cheat sheet below to help get you started: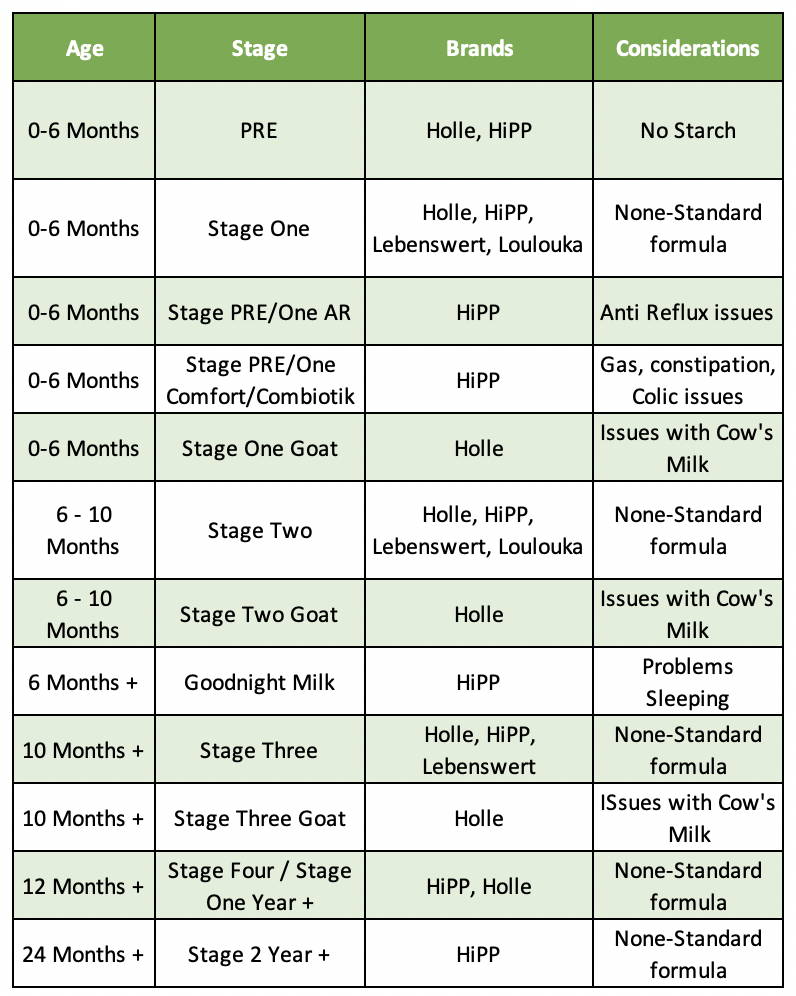 For the most part, No.
We allow returns under 1 of 2 conditions:
1. You were sent a product you did not order; for example, you were sent Holle cow milk when you ordered Holle goat milk.
2. Your order arrived severely damaged - enough to cause formula to leak out. We will send out a replacement if it is severely damaged; however, if no seals are broken and formula isn't leaking out, the formula is still safe to use and no replacement is necessary.
For those orders that were sent the wrong formula, the formula must be sent back to us as soon as possible - no later than 1 week since you received it. The formula must also remain unopened. If you use any of the formula boxes, you will no longer have the right to return it.
If at anytime you do not want the shipment that was sent, please refuse the box when it is set to be delivered (this only applies to single pack purchases, 6/8/12 pack orders must NOT be refused). If you do this, it will automatically be sent back to our warehouse.
Once we receive your package, we can offer you a refund. Please reach out to our team prior to refusing the package to explain the situation if you would like a refund, otherwise you may not receive a refund.
Please understand, we do not allow returns for safety reasons. Unless one of the above reasons are met, we will not be accepting your return.
As parents, we would expect to purchase brand new formula, not boxes that have been sold, then returned, then sold again.
How do I prepare the formula?
This is an EXTREMELY important question! If you do not follow the instructions correctly, you could possibly cause harm to your baby! This is because the formula was created for the exact nutrition your baby needs and too much water could dilute the nutrients, while too little water could give your baby too many nutrients.
But don't worry, we know the importance of this and have made it super easy for our customers, regardless of which formula you have purchased. Please visit our European Baby Formula Mixing Instructions Blog for all of the instructions.
Also, every package we send comes with a pamphlet of the mixing instructions as well.
How do I check the expiration?
European dates are reflected differently than in the US, with the month and day reversed.
For example, July 30, 2019 would read 30/07/2019 or 30.07.2019
Just remember, the format is always DAY / MONTH / YEAR
Our formulas will arrive to you with a minimum of 6 months shelf life remaining. In fact, most of our formulas have at least one year prior to expiration. This means we are shipping formulas that are recently produced and fresh!
You should never receive a box with an expiration of less than 6 months; if you do by a rare chance, please contact our customer service.
What is your cancellation policy?
If you are a subscriber and would like to cancel your account, please login to your account and cancel. If you are unsure of how to login and cancel, please check out our subscription FAQs and follow the directions.
Having problems logging into your account to cancel? Please reach out to us at customercare@myorganiccompany.store and we will resend you the email to set up your account. Some customers forget to setup their accounts with a password when creating a subscription, but no worries, we are here to help! Once your account is setup with a password, you are able to modify/cancel your subscription.
Please note, due to a large quantity of emails received daily, we don't cancel subscriptions initially for customers. We encourage customers to adjust their accounts individually so they can ensure cancellations are completed prior to the next shipment.
Our staff is not responsible for cancelling customer's recurring subscriptions. If you have requested a subscription cancellation, and have not had confirmation from customer service that your subscription has been cancelled, please be advised your next subscription could potentially ship. Your subscription is NOT cancelled unless you have received confirmation.
For recurring subscriptions that have already shipped prior to cancellation of subscription please refuse the box when it is set to be delivered. If you do this, it will automatically be sent back to our warehouse. Once we receive your package, we can offer you a refund. Please reach out to our team prior to refusing the package to explain the situation if you would like a refund, otherwise you may not receive a refund. Refunds are not automatically processed and have to be initiated by our staff - this is why we need clear communication that you will be refusing a package. Please allow us to receive the package back so that we can initiate a refund. We initiate the refunds, not your bank. Please do not dispute charges that have been placed on orders that we have fulfilled, this delays the refund process and does not allow our company a chance to resolve the issue expediently for you. We appreciate your service and constantly strive to provide the best service possible - please allow us the opportunity to demonstrate your full refund for returned orders!