HiPP German Stage Pre Combiotic Organic Baby Formula - 600g

HiPP German Stage Pre Combiotic Organic Baby Formula - 600g
Why we love HiPP Stage PRE Combiotik Great for babies from birth to 6 months No added sugar No starch Essential non-synthetic vitamins and minerals Prebiotics/Probiotics for better digestion NO wheat or peanut ingredients. Gluten-Free Iron-fortified Omega-3 and 6 LCPs (DHA and ARA) for brain development Main carbohydrate is lactose GMO-Free 600g / 21.16oz of formula powder
All avaliable products are in the cart
Express Shipping: 2 - 6 business days.
Limited availability in stock.
Fast & Free Shipping
Available on 6, 8 & 12 pack orders.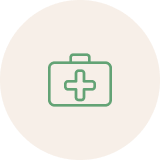 See Pediatrician
We always recommend speaking to your pediatrician before use.
Guaranteed Fresh
At least 6 months until expiration on all products.
Express Delivery
2-6 business day shipping available at checkout.
Subscribe & Save 5%
Never worry about your supply. Cancel anytime.
24/7 Customer Service
Because we know how important this is to you.
Product Description
HiPP Pre Combiotic is suitable for newborns to 6 months. Combiotic baby formula is full of essential vitamins and minerals. Each box contains 600g / 21 oz of formula and HiPP German formula instructions.

Made with clean and pure ingredients— HiPP's main carbohydrate is lactose. With a wide variety of vitamins and minerals to support healthy growth in infants. To support immune function, vitamins A & C mix into this formula. A boost of vitamin D adds in to support bone health. Additionally, Omega 3s and 6s (DHA & ARA) combine to support the brain and muscle tissue. With all these enriching ingredients, HiPP makes the best organic formula for newborns.

While meeting EU organic standards, HiPP Combiotic is made in Germany. Unlike American formulas, EU certified brands meet strict certification before even leaving the factory. HiPP Pre Combiotic is free from steroids, pesticides, hormones, and chemicals. Formulas contain NO gluten, soy, peanuts, eggs, starch, or added sugar. HiPP designs each formula with a distinct purpose—this all-in-one formula is universal and targets many health areas.

HiPP German Formula is ideal for infants under six months and health-conscious mothers. With the dangers of unregulated formulas, it's no surprise that most mothers prefer HiPP. If you're restless from searching for the best organic formula—it's right here! HiPP German products contains all the ingredients mothers prefer with a taste babies crave.

Scroll below to see HiPP organic Combiotic first infant milk reviews.