Bebe M Organic Rice Formula Stage 1

Bebe M Organic Rice Formula Stage 1
Bebe Mandorle Stage 1 is an infant formula based on certified organic rice protein hydrolysate. It is manufactured using a cold process without palm oil. 100% organic, vegan, milk-free, dairy-free, lactose-free, soy-free This infant formula is suitable for the specific needs of non-breastfed infants from the moment they are born. 800g / 28.22oz of formula powder
All avaliable products are in the cart
Express Shipping: 2 - 6 business days.
Limited availability in stock.
corn* maltodextrins (origin EU), vegetable oils* (coconut* extract, sweet almond*, rapeseed*), hydrolysed rice* proteins (15%), corn* starch, EPA/ DHA, minerals (calcium phosphate, calcium carbonate, potassium phosphate, potassium chloride, magnesium phosphate, zinc oxide, copper sulfate, iron sulfate, manganese sulfate, potassium iodide, sodium selenite), vitamins (C, PP, B5, E, B2, A, B1, B6, B9, K, B8, D, B12), L-Lysine, L-Tryptophan, Choline Bitartrate, Inositol, L-Carnitine, L-Tartrate.
*from organic farming

Our FREE 6/8/12 Pack Shipping: DHL Express, UPS Express, and FedEx Express (Mo-Fr) estimated 2-7 business days
Our Single Pack Shipping: Belgium Post, Netherland Post, and Landmark Global estimated 7 to 15 business daysDHL, UPS, FedEx Express
Estimated 2-7 business days (if it has been more than 15 business days, please contact us immediately!)Belgium Post, Netherland Post, and Landmark Global
Estimated 7 to 15 business day shipping(please note that with these carriers the packages are handed off to USPS or UPS once they get closer to the delivery destination, sometimes it is handed off twice)
If it has been longer than 20 business days please contact us immediately!
Happy Baby Guarantee Is your baby not doing well on this formula? We get it, not every formula is for every baby. We'll help guide you, and give you store credit to try another box for free.
Fast & Free Shipping
Available on 6, 8 & 12 pack orders.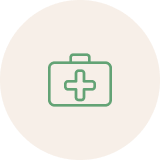 See Pediatrician
We always recommend speaking to your pediatrician before use.
Guaranteed Fresh
At least 6 months until expiration on all products.
Express Delivery
2-6 business day shipping available at checkout.
Subscribe & Save 5%
Never worry about your supply. Cancel anytime.
24/7 Customer Service
Because we know how important this is to you.
Product Description
Bebe Mandorle is an organic certified, 100% vegetable based formula that contains no animal product or by-product. It is suitable for 0-6 months and meets all of the EU regulatory requirements for infant nutrition necessary for healthy growth and development.
It is lactose-free and has plant-sourced omega-3 DHA and Icelandic lichen (not sheep wool) for Vitamin D enrich this unique baby formula that has a nutrient content identical to traditional lactose-based baby formula, including vitamins and minerals (including calcium), all from plant sources.

For better preservation of the nutrients, the manufacturing process is an exclusive treatment of micro-encapsulation and temperature-controlled dehydration, totally innovative in the field of instant powders.

This preparation is based on hydrolyzation of bio-vegetable rice protein, virgin almond oil, coconut oil, and rapeseed oil and is an alternative to lactose infant formula.
Instructions will also be included in your order.

Please refer to our Mixing Instructions Guide for charts and more!
Water (mL)
90
No of Spoons
3
No of meals
6-8
Water (mL)
120
No of Spoons
4
No of meals
6-7
Water (mL)
150
No of Spoons
5
No of meals
5-6
Water (mL)
180
No of Spoons
6
No of meals
4-5
Water (mL)
210
No of Spoons
7
No of meals
4-5
Age
Water (mL)
No of Spoons
No of meals
Nutrition Facts
Monosaturated fatty acids
1.3g
Polyunsaturated fatty acids
0.6g
Monosaturated fatty acids
1.3g
Polyunsaturated fatty acids
0.6g
Manufacturer
La Mandorle is a French company established in 1989; it is the first organic almond milk producer in France.

La Mandorle has been the nutrition expert on dry fruits for more than 29 years. With the abundance of knowledge on the nutrient composition and nutritional potential of dry fruits, La Mandorle has developed, with the support of the French Ministry of Research, a patent of invention for the process of vegetal drinks. This patent differentiates La Mandorle from every other glass on the market thanks to its unique approach in terms of composition, formulation, process, digestive tolerance, and above all, nutritional values.
La Mandorle has a vital role in the 'high nutritional quality of organic vegetal alternatives and is sensitive to the diet of young children. La Mandorle is committed to offering the best products possible with the strongest guarantees within a sustainable ecological objective.
All La Mandorle products are naturally GLUTEN FREE – MILK FREE – SOY FREE.

"The nutrition an infant receives, particularly up to the first year of life, will have lifelong effects on the growth and developmental abilities of the child as well as susceptibility to future medical illnesses"
- Dr. Jatinder Bhatia, MD, FAAP, leading Pediatrician