Bebe M Organic Rice Formula Stage 3

Bebe M Organic Rice Formula Stage 3
100% vegetable, dairy-free, gluten-free, soy-free, and palm oil-free, based on rice protein hydrolysate and certified organic, Bebe M Stage 3 cereal preparation with a protein supplement is intended to be used during the weaning period of infants and as a supplement to a varied diet of toddlers. 800g / 28.22oz of formula powder
All avaliable products are in the cart
Express Shipping: 2 - 6 business days.
Limited availability in stock.
Fast & Free Shipping
Available on 6, 8 & 12 pack orders.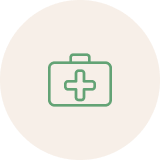 See Pediatrician
We always recommend speaking to your pediatrician before use.
Guaranteed Fresh
At least 6 months until expiration on all products.
Express Delivery
2-6 business day shipping available at checkout.
Subscribe & Save 5%
Never worry about your supply. Cancel anytime.
24/7 Customer Service
Because we know how important this is to you.
Product Description
100% plant-based, certified organic, and without animal or soy milk. Bébé M Stage 3 is crafted with pre-cooked cereals and naturally enriched with lactic ferments to provide an all-in-one solution during the weaning phase. Perfectly balanced for ages six months to 3 years.

Unlike other toddler formulas, Bebe M is enriched with plant-sourced omega-3 DHA and Icelandic lichen (not sheep wool) for Vitamin D. This unique nutritional content is identical to traditional toddler milk based on lactose, including vitamins and minerals (including calcium), all from plant sources.
This vegan formulation uses an exclusive treatment of micro-encapsulation and temperature-controlled dehydration that is innovative in powdered baby formulas.
This preparation is based on hydrolyzation of bio-vegetable rice protein, virgin almond oil, coconut oil, and rapeseed oil and is an alternative to lactose infant formula.

"The nutrition an infant receives, particularly up to the first year of life, will have lifelong effects on the growth and developmental abilities of the child as well as susceptibility to future medical illnesses"
- Dr. Jatinder Bhatia, MD, FAAP, leading Pediatrician