Holle A2 Stage 1 Organic Baby Formula (400g)

Holle A2 Stage 1 Organic Baby Formula (400g)
Why we love Holle A2 Stage 1 Great for babies from birth to 6 months No added sugar, GMO Free Milk from cows with A2 beta-casein protein type, not A1 cows Label in English for easy to read Free from artificial chemicals, preservatives, and flavors Biodynamic, Demeter, and Organic Certified (Organic ++) Chemical-free farming and positive animal husbandry Main carbohydrate is lactose 400g / 14.11 oz of formula powder **Product comes in 400g box**
All avaliable products are in the cart
Express Shipping: 2 - 6 business days.
Limited availability in stock.
Fast & Free Shipping
Available on 6, 8 & 12 pack orders.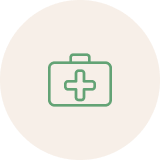 See Pediatrician
We always recommend speaking to your pediatrician before use.
Guaranteed Fresh
At least 6 months until expiration on all products.
Express Delivery
2-6 business day shipping available at checkout.
Subscribe & Save 5%
Never worry about your supply. Cancel anytime.
24/7 Customer Service
Because we know how important this is to you.
Product Description
Holle A2 Stage 1 Organic Infant Formula is perfect for newborns from 0-6 months. If you want a formula that provides high quality, organic A2 milk, Holle is the only kind of A2 cow milk formula on the market for you! This Demeter organic baby formula comes with 800g of formula powder per container.

Holle A2 cow milk formula is created from 99% organic ingredients. All European milk comes from herds raised on biodynamic, Demeter farms. In these farms, cows are treated in sustainable and appropriate environments. Cows graze in lush biodynamic pastures and are never dehorned.

Why choose A2 protein for your baby formula? The proline found in A2 milk prevents BCM 7 from reaching your baby's body. This means baby's who may experience discomfort, inflammation, and digestive issues benefit from a simple switch to an A2 protein milk. Holle A2 cow milk gives babies a chance to continue drinking cow's milk, without having to try alternative goat's milk formulas.

All Holle formulas are EU Organic Certified. What does this mean? You will never see preservatives, soy, sugar, maltodextrin, or GMOs used. Furthermore, EU Organic Certified formulas must undergo multiple quality checks before even leaving the factory.

European formula standards far outweigh American standards; this is why so many families are making the switch. Both you and your baby will LOVE the health benefits of Holle.

Competing baby formulas contain toxic, unhealthy ingredients. Why risk your baby's developing body to potential contamination from the formula they drink? If you are looking for an organic formula with ZERO soy oil and only A2 cow's milk—Holle is perfect! For babies starting to eat purees and finger foods, we recommend the next stage, Holle A2 Stage 2 organic baby formula.
"The nutrition an infant receives, particularly up to the first year of life, will have lifelong effects on the growth and developmental abilities of the child as well as susceptibility to future medical illnesses"
- Dr. Jatinder Bhatia, MD, FAAP, leading Pediatrician