Holle A2 Stage 2 Organic Baby Formula (400g)

Holle A2 Stage 2 Organic Baby Formula (400g)
Why we love Holle A2 Stage 2 Great for babies from 6 to 12 months No added sugar, GMO Free Milk from cows with A2 beta-casein protein type, not A1 cows Label in English for easy to read Free from artificial chemicals, preservatives, and flavors Biodynamic, Demeter, and Organic Certified (Organic ++) Chemical-free farming and positive animal husbandry Main carbohydrate is lactose 400g / 14.11 oz of formula powder **Product comes in 400g box**
All avaliable products are in the cart
Express Shipping: 2 - 6 business days.
Limited availability in stock.
Fast & Free Shipping
Available on 6, 8 & 12 pack orders.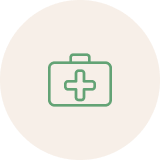 See Pediatrician
We always recommend speaking to your pediatrician before use.
Guaranteed Fresh
At least 6 months until expiration on all products.
Express Delivery
2-6 business day shipping available at checkout.
Subscribe & Save 5%
Never worry about your supply. Cancel anytime.
24/7 Customer Service
Because we know how important this is to you.
Product Description
Holle A2 Stage 2 is perfect for babies from 6 - 12 months, transitioning into more solid foods in their diet. If you want a formula that provides all the essential nutrients your baby needs without additives and A2 Demeter quality milk—look no further! This organic baby formula comes with 800g of formula powder per container.

With many babies suffering from digestive issues, the A2 milk offers a reasonable and feasible solution. Recent studies have discovered the A1 beta-casein protein as the main culprit for discomfort, inflammation, and digestive worries; this is because A1 cows do not make proline, so BCM 7 is left in the baby's body until it dissolves in the blood.

Looking for a formula that is made with the essential nutrients and vitamins to help your baby grow while you introduce solid foods? All of Holle formulas include the essentials and more - 100% organic and Demeter certified milk as well as DHA and ARA for the added support for muscle, eye, and brain growth.

EU Organic Certified means no preservatives, soy, sugar, or GMOs are used. Furthermore, the extensive and multiple checks required before the formula is on the shelves, is beyond the standard expectations found in American formulas.

If environmental consideration is important to you, know that Holle fully supports you with your goals. Recyclable cans are used in the production of Holle A2, as well as the Demeter farms to help the local environment. Plus, the organic palm oil is produced in sustainable plantations in Colombia. Workers are treated fairly with proper compensation and social benefits.

With over 85 years experience in the bay food industry, Holle has expanded from Switzerland, to Germany, to the world. You are now able to receive the highest quality and standards for your family to enjoy and appreciate, so much like they have in Europe for years.
"The nutrition an infant receives, particularly up to the first year of life, will have lifelong effects on the growth and developmental abilities of the child as well as susceptibility to future medical illnesses"
- Dr. Jatinder Bhatia, MD, FAAP, leading Pediatrician