Holle Goat Dutch Milk Stage 1

Holle Goat Dutch Milk Stage 1
49 Reviews
Based on 49 reviews
Why we love Holle Goat Dutch Milk Stage 1 Great for babies from birth to 6 months No Palm Oil, Soy Oil, or Added Sugar Free from artificial chemicals, preservatives, and flavors Biodynamic, Demeter, and Organic Certified (Organic ++) Chemical-free farming and positive animal husbandry Gluten-Free And GMO Free Main carbohydrate is lactose sourced from Whole Organic Goat's milk Reinforced can for better packaging 800g / 28.22oz of formula powder
All avaliable products are in the cart
Express Shipping: 2 - 6 business days.
Limited availability in stock.
Organic Whole Goat's Milk Powder*1 38.6%, Organic Maltodextrin*, Organic Lactose*, Organic Vegetable Oils* (Organic Sunflower Oil, Organic Rapeseed Oil), L-Choline, Calcium Hydroxide, Algae Oil (DHA)2, L-cystine, Calcium Carbonate, Magnesium Chloride, Vitamin C, L-tryptophan, L-Tyrosine, Sodium Citrate, Sodium Chloride, Iron Lactate, Inositol, Vitamin E, Zinc Sulfate, L-Carnitine, Niacin, Pantothenic Acid, Copper Sulfate, Vitamin A, Vitamin B1, Vitamin B6, Folic Acid, Vitamin B2, Manganese Sulfate, Potassium Iodide, Vitamin K, Sodium Selenite, Vitamin D, Biotin, Vitamin B12

* from organic farming

1. 100g Infant Milk Powder, produced from 285ml whole milk

2. contains DHA (as required by all infant formula legislation)

Countries of origin of the main ingredients:

Austria
Our FREE 6/8/12 Pack Shipping: DHL Express, UPS Express, and FedEx Express (Mo-Fr) estimated 2-7 business days
Our Single Pack Shipping: Belgium Post, Netherland Post, and Landmark Global estimated 7 to 15 business daysDHL, UPS, FedEx Express
Estimated 2-7 business days (if it has been more than 15 business days, please contact us immediately!)Belgium Post, Netherland Post, and Landmark Global
Estimated 7 to 15 business day shipping(please note that with these carriers the packages are handed off to USPS or UPS once they get closer to the delivery destination, sometimes it is handed off twice)
If it has been longer than 20 business days please contact us immediately!
Happy Baby Guarantee Is your baby not doing well on this formula? We get it, not every formula is for every baby. We'll help guide you, and give you store credit to try another box for free.
Fast & Free Shipping
Available on 6, 8 & 12 pack orders.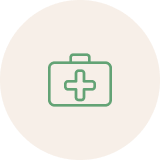 See Pediatrician
We always recommend speaking to your pediatrician before use.
Guaranteed Fresh
At least 6 months until expiration on all products.
Express Delivery
2-6 business day shipping available at checkout.
Subscribe & Save 5%
Never worry about your supply. Cancel anytime.
24/7 Customer Service
Because we know how important this is to you.
Product Description

Holle Goat Dutch Milk Baby Formula Stage 1 contains the ingredients parents want and what babies need. This product is ideal for use after birth and babies 0-6 months of age. Give your baby an abundance of nutrients essential for the first months of their life.

Made with creamy goat milk, it will give your baby more protein and vitamins. Important vegetable oils are added to provide essential fatty acids that all infants need. All ingredients are natural, making it a great organic baby formula for sensitive stomach issues. This product comes in an amount of 800g / 28.22oz of formula powder per reinforced can.

Holle Organic Goat milk formula is made from Demeter, grass-fed goat milk. Unlike American brands, all products are formulated under strict EU regulations and checks before distribution.

Goat milk has the A2 protein, which means this formula is perfect for those sensitive little tummies. Babies have a much easier time digesting the goat's milk, which means happier parents as well!

Holle Goat Milk Baby Formula Stage 1 has less sugar than over-the-counter formulas—due to the use of goat milk instead of cow milk. Holle is perfect for those looking for a formula with simple, wholesome ingredients.

Formulas come free of hormones, steroids, antibiotics, chemicals, sugars, and GMOs. Packed with naturally occurring carbohydrates to keep your baby satisfied. Goat milk based baby formulas come full of essential vitamins and minerals with no artificial flavors, colors, or sweeteners.

EU organic certified goats milk baby formula comes without any synthetic pesticides or herbicides—your baby will get the nontoxic nourishment they deserve. Holle brings fresh and healthy formula to all mothers and infants. The formula is gluten-free, soy-free, and peanut-free.

Why is goat milk better than cows' milk? Goat milk as baby formula gives babies more proteins, vitamins, and minerals to help them grow up healthy. Grass-fed goats that graze on lush biodynamic fields provide the milk with its superior quality.


Baby formula made from goat's milk optimizes digestion and improves the bioavailability of nutrients. Additionally, goat milk is rich in Vitamin D for bone health and calcium absorption. Both Vitamin A and C are found in goat milk to promote a healthy immune system. Holle is the best organic goat milk baby formula on the market.
Instructions will also be included in your order.

Please refer to our Mixing Instructions Guide for charts and more!
0-1 Week
2-4 Weeks
2 Months
3-4 Months
5 Months
Water (mL)
Ask doctor
Scoops
Ask doctor
Mixed mL
Ask doctor
Mixed ounces
Ask doctor
Bottles per day
Ask doctor
Water (mL)
100
Scoops
3
Mixed mL
110
Mixed ounces
3.72
Bottles per day
6-7
Water (mL)
130
Scoops
4
Mixed mL
140
Mixed ounces
4.73
Bottles per day
5-6
Water (mL)
170
Scoops
5
Mixed mL
180
Mixed ounces
6.08
Bottles per day
4-5
Water (mL)
200
Scoops
6
Mixed mL
220
Mixed ounces
6.76
Bottles per day
3-5
Age
Water (mL)
Scoops
Mixed mL
Mixed ounces
Bottles per day
0-1 Week
2-4 Weeks
2 Months
3-4 Months
5 Months
Ask doctor
Ask doctor
Ask doctor
Ask doctor
Ask doctor
Nutrition Facts
Saturated fatty acids
1.3g
Monosaturated fatty acids
1.7g
Polyunsaturated fatty acids
0,6g
Further nutritional values
Saturated fatty acids
1.3g
Monosaturated fatty acids
1.7g
Polyunsaturated fatty acids
0,6g
Further nutritional values
Manufacturer
In 1933, Holle began production of organic baby food in the Switzerland market. Having much success and positive outcomes, by the 1960's they had expanded their market to include Germany as well. Moreover, they became the first Demeter certified company, offering organic options that take care of the environment during the farming process.

As time progressed, so did Holle - meeting the ever-expanding customer demands for wholly organic baby food products. They have expanded across the world and continuously update their standards. By 2013, they had introduced their CO2 neutral Demeter baby formula to the market, showing their utmost concern with sustainability and the environment.

A company focused on the well-being of the planet to produce high-quality baby foods makes us here at MyOrganicCompany very pleased to support. We love their amazing formulas and we know your babies will too!
"The nutrition an infant receives, particularly up to the first year of life, will have lifelong effects on the growth and developmental abilities of the child as well as susceptibility to future medical illnesses"
- Dr. Jatinder Bhatia, MD, FAAP, leading Pediatrician