For over a century, European baby formula has evolved to meet the needs of most families looking for a breastfeeding alternative. Milk-based powders are designed with the perfect balance of nutrients to support healthy growth and development.
However, there are still limited options for plant-based, vegan households and those little ones with a true milk protein allergy.
The good news, La Mandorle has seen this need and thoughtfully produced infant nutrition for lactose-free babies using only the best organic ingredients, introducing Bébé M vegan baby formula.
2. Vegan Baby Formula: What Makes It Unique?
3. Plant Based Baby Formula
4. Organic Plant Based Baby Formula
5. Best-Plant Based Formula
6. Best-Plant-Based Formula for Babies: Bebe M Stages
7. Simply Plant Based Formula: Unique Taste and Texture
8. Vegan Formula for Babies
9. Frequently Asked Questions

La Mandorle has been a family business since 1989, an expert in dairy and gluten-free plant-based products, organic almond drinks, and vegetarian baby formula.
All La Mandorle ingredients are certified organic and are developed with the support of the French Ministry of Research, a patent of invention for the process of vegetal drinks.
This patent differentiates La Mandorle from every other drink on the market thanks to its unique approach in terms of composition, formulation, process, digestive tolerance, and above all, nutritional values.
Innovators of a low-temperature manufacturing process, now patented La Mandorie can offer delicious, eco-friendly, healthy, and highly nutritional baby formula options.
Through a rigorous selection, only healthy, high-quality, natural, and environmentally friendly products are used by La Mandorle. Your child's well-being is at the heart of their composition and formulation!
                                              All La Mandorle products are naturally GLUTEN FREE – MILK FREE – SOY FREE
Vegan Baby Formula: What Makes It Unique?
Vegan baby formula is made without animal-derived products or byproducts at any step of the manufacturing process.
No dairy-based ingredients, such as milk or the milk proteins casein and whey, no eggs are used, and obviously, no meat or fish is used to make vegan baby formula.
At least 65% of people worldwide develop some degree of lactose intolerance. Families with a history of this worry may prefer starting their baby on a non-dairy formula just to avoid potential issues.
Vegan baby formula can offer a worry-free option for families with little ones with a serve milk protein allergy or lactose intolerance.
Plant-based formulas have a significantly lower carbon footprint and use less water than cow's milk.
A vegan baby formula such as Bébé M is a safe, healthy, and sustainable choice for infants, whether they're vegan or vegetarian or eat a varied diet that includes animal products.
Organic Plant Based Baby Formula
Innovation is the perfect word to describe Bébé M's vegan baby formula. This award-winning formula is unique, starting with the development and ingredients through the manufacturing process.
100% Organic Rice Protein

A partial hydrolysate organic rice protein obtained naturally is the star of this distinctive formula.
Thanks to a mild enzyme process developed according to current regulations. Bébé M rice protein presents a protein pattern closely resembles breast milk after hydrolysis and has a higher bioavailability than native animal or plant-based protein.
The rice protein hydrolysate gives Bébé M the recognizable dark beige color due to the natural nature of the product.
Bébé formulations use selected ingredients that respect your baby's growth and development in the early years to set the foundation for a lifetime of health and well-being.  
La Mandorle is the 1st organic plant-based alternative formulated without milk, soy, or palm oil. Organic nutrition with only the very best in vegan ingredients.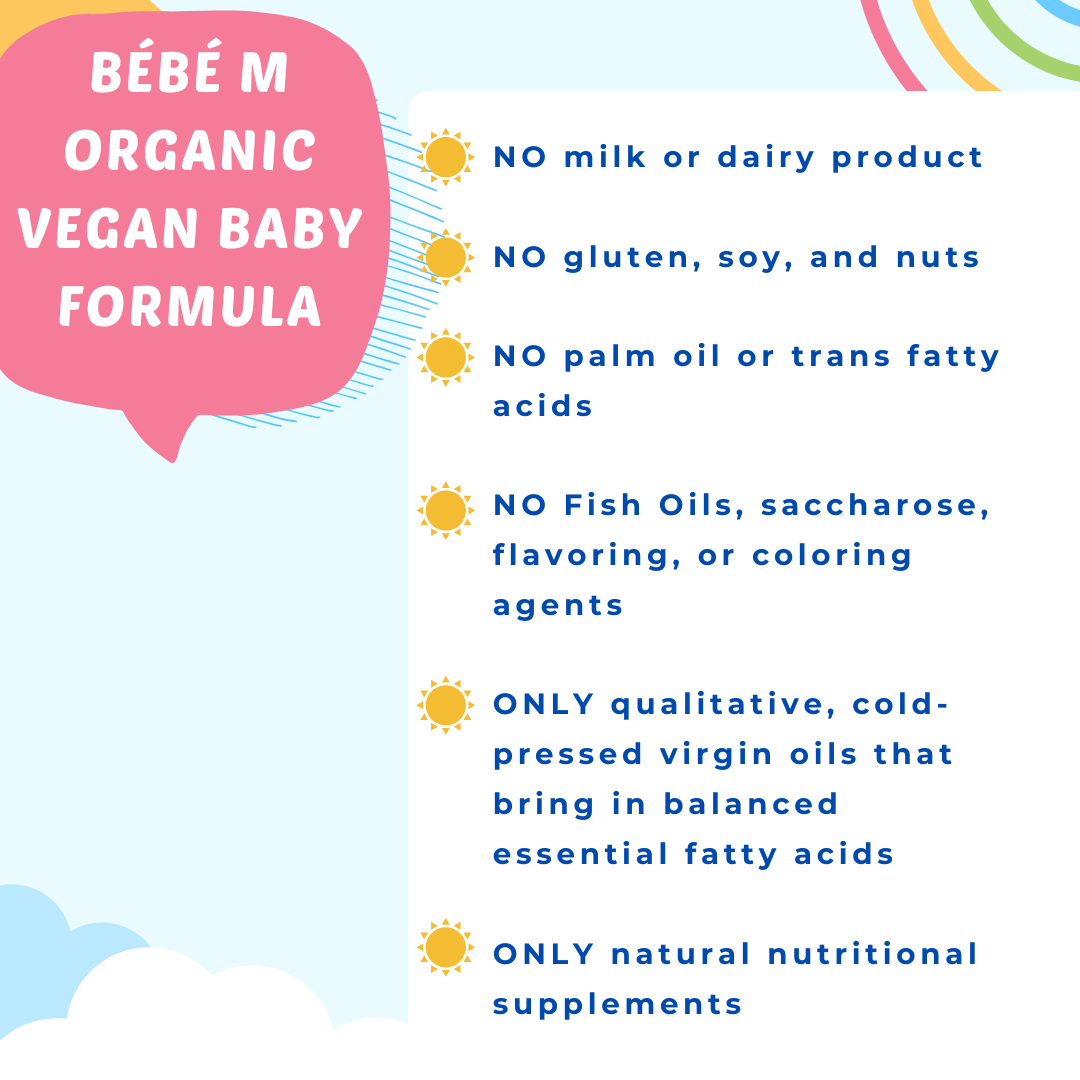 At the cutting edge of nutrient preservation, La Madorele uses a low-temperature manufacturing process of controlled encapsulation and dehydration.
By comparison, most infant formulas currently obtained by atomization or spray-drying involve a series of technical operations which can affect the powders' quality and properties, determining their nutritional benefit.
The improved production method is just as important as the composition. It is a new microencapsulation and dehydration process operating under controlled temperatures for Bébé M, protecting the oils and preserving the nutrients without overdosing (unlike atomization).
The low-temperature process has other advantages, such as making the preparation of baby bottles easier and having the added benefit of having a low ecological impact.
On a human scale, a less "industrial" way produces only tiny volumes for better control of the nutritional and ecological impacts. It also implies lower yields with higher manufacturing and analysis costs than traditional infant formulas.
Guarantee 100% organic and optimized formulation process
that respects babies' physiology
Bébé M is a new and ingenious powder formula, the first of its kind in the infant nutrition market.
Awarded the Gold Trophy for innovation at its launch, it is an organic plant-based solution, free from milk or soy, based on organic rice proteins.
Certified in Organic Agriculture

Bébé M is certified in organic agriculture for a revolutionary approach in terms of ingredient selection, formulation, and manufacturing.
Certified by ECOCERT in 2013, this organic certification implies two annual audits to obtain a certificate.
Going far beyond the infant and organic regulations, since 2016, Bébé has been certified as a "Sustainable company" (Bio enterprise durable) with a commitment to social, economic, societal, and environmental issues.
Bio-Vegetal, Dairy Free, and Gluten Free

Free of allergenic proteins, Bébé M is better for digestive worries for babies that have a sensitivity or intolerance to cow's or goat's milk formula, without the dangers of soy or the unwanted side effect of gluten.
Bebe M products are without animal ingredients for better respect for our environment and so that all families have a healthy balanced option.
Foregoing palm oil and fish oil to show extra care for our oceans and land, Bébé M chooses low-energy, non-polluting, and responsibility-sourced plant-based oils like almond, colza, or coconut.
These oils help absorb fat-soluble vitamins and provide sufficient fatty acids for a balanced diet.
100% plant-based ingredients include marine-based algae for DHA (as an alternative to fish oil) and Icelandic lichen( not sheep wool) for vitamin D.

Plant Based Formulas for Babies: Bébé M Stages

Bébé M is the first and foremost 100% plant-based organic formula suitable for all babies from birth through toddlerhood. Each stage is nutritonally blanced to meet the specific requirements youyour little one needs for healthy growth and development.





Simply Plant Based Formula: Unique Taste and Texture

Bébé M is a new and innovative formula for the infant nutrition market. It is important to note that Bébé M organic & plant-based infant formulas may differ from other standardized lactose-based formulas.
Every stage is plant-based, organic, and cold manufactured without palm oil and may have a varying texture, color, and particular taste while maintaining nutritional, allergenic, and microbiological guarantees.
To meet regulatory requirements, organic rice protein hydrolysate can present color variations and give Bébé M infant formulas a beige to light beige color.
The addition of coconut oil and a cold process can lead to the formation of small white particles. They are normal and dissolve after reconstitution with hot water and vigorous shaking.
Like all formulas based on hydrolyzed proteins, Bébé M's taste has a slight natural bitterness due to the hydrolysis of the protein.
The cold process can result in a particular texture giving a "wet sand" appearance. Pay special attention to the preparation instructions, better dilution is recommended.
When breastfeeding is not an option, the benefits of Bébé M vegan formula stand out.
100% plant-based, dairy, and soy-free, Bébé M Infant Formula is based on certified organic rice protein hydrolysate that is perfect for those that choose to leave animal by-products out of their diets and families that are simply looking for clean, balanced nutrition.
My Organic Company aims to serve all families, and we are excited to add this vegan-based nutrition as an option alongside our vegetarian and lactose-based European baby formulas.
Frequently Asked Questions
Is this formula nutritional complete?

Yes, the Bébé M range is nutritionally complete and complies with all European Commission Regulations (EC) 2006/125 and (EC) 609/2013.
These regulations outline the correct nutritional levels for baby food and formula.
What are your recommendations for preparing a feeding bottle?

To make bottle preparation easier, preferably add the powder first, then the water. Shake well from right to left, then from top to bottom to avoid blocking the nipple.
What is the difference between Bébé M and other infant formulas?

Based on the latest studies in infant nutrition, Bébé M infant formulas are made from organic rice protein hydrolysate. Bébé M has specially developed this organic plant-based hydrolysate to meet the regulatory requirements for infant proteins.
Bébé M's formulations are unique, guaranteed milk-free, and gluten-free. They are nutritionally complete, and all the ingredients respect babies' physiology as closely as possible.
Particular attention is paid to the manufacturing process and the choice of raw materials: No palm oil, only high-quality oils from 1st cold pressing (Almond-Coconut-Colza); a complex process to respect heat-sensitive nutrients and avoid any overdose of nutrients;
Gluten-free cereals, such as buckwheat and millet, which are more nutritious than the classic rice and corn;
No chemical flavors, colorings, added sugars, or salt to meet the specific needs of babies.
What should we know about the unique taste and consistency?

With the first bottle of Bébé, families may notice differences compared to the familiar lactose-based formulas and breast milk. The taste and consistency are due to the unique formulation shared among all hydrolyzed formulas.
The hydrolysis process involves breaking down proteins into small pieces. You may find the prepared formula has a bitter taste and small bits, i.e., residue. These are all completely normal and safe aspects of the recipe.
As with any changes to feeding your baby, it may take time for them to adapt to the formula fully.
For helpful suggestions on transitioning to a bottle or a specific formula, check out this quick-read article https://myorganiccompany.store/blogs/news/transitioning-from-breast-to-bottle