You have found complete nutrition in European baby formula, it has arrived at your doorstep, now it is time to prepare your baby formula. The question becomes: What is the perfect temperature for a bottle of baby formula?
While it is not necessary to heat a baby's bottle most little ones have a strong preference.
Newborns or babies that supplement usually prefer warmed baby formula

Babies who are teething may prefer a cold bottle to soothe sore gums

Older babies may prefer room temperature as they transition to a cup
Perfect Temperature for Baby Formula
Raising the temperature in your baby's bottle gently will ensure that the nutrients in the baby formula are preserved.
Slowly heating at or just below body temperature – 98.6 degrees Fahrenheit - will also help to ensure that there are no hotspots or uneven heating that can cause burning to your baby's mouth or throat.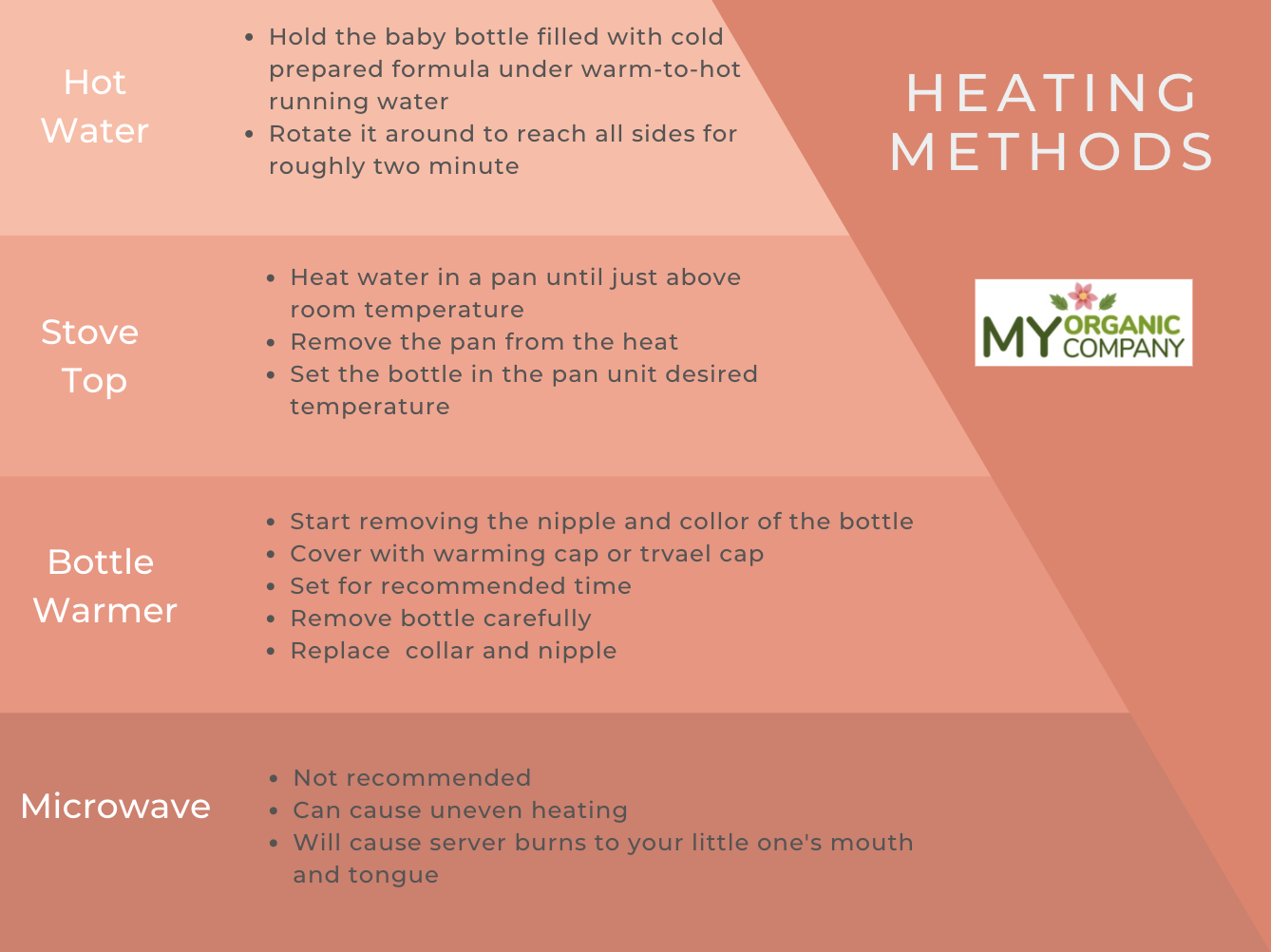 Safety first!
It is very important to test the baby formula each and every time you heat a baby bottle. To avoid burning the baby's sensitive mouth and lips, dab a few drops of milk onto your inner wrist.
If you feel nothing on your wrist, then it is the appropriate temperature. If you feel any warmth at all, the baby formula may be too hot. It is important to wait until it cools before offering it to your little one.
Many babies, especially newborns, prefer warm baby formula since it mimics the warmth of breast milk, but there is not a medical or nutritional reason why your little one can not enjoy cold baby formula.
As long as formula-fed babies are taking a baby bottle and can maintain their body temperature, the contents of the baby bottle can be slightly warmed, at room temperature, or even cold straight from the fridge.
If your little one would like a cold bottle of baby formula to help soothe teething gums or a sore throat, you can serve the bottle straight from a cold fridge. Freshly prepared bottles can be quickly cooled in an ice bath or by spending about 15 minutes in a refrigerator.
As with warmed baby bottles, Safety is paramount! Never feed a baby a bottle that has been frozen or is close to freezing. A bottle of baby formula that is too cold can numb baby tongue or throat, causing problems with swallowing or freezer-like burns.
European Baby Formula: The Perfect Temperature and Beyond
Babies can enjoy their 100% organic baby formula slightly warmed or straight from the refrigerator, making days and nights a little easier on you.
We are so happy that you have entrusted My Organic Company to help you with your baby's nutritional needs.
Parents, caregivers, and European baby formula experts have started gathering to share life's ups and downs, answer questions, and form a community.
Please join us at HiPP Holle Kendamil & European Baby Formula Parent Community. We are looking forward to sharing time with you.