With so many choices of over-the-counter and ready-to-ship baby formulas available, narrowing down the field can be very difficult to say the least.
Understanding the benefits to each brand of infant formula, what each baby formula has to offer, and wading through the claims of key features can be a daunting but important task.
In this article we compare the nutritional differences and similarities between leading brands of European baby formulas and American baby formulas.
In this review we will take a look at Holle vs Enfamil, highlighting which one might be able to offer your child exactly what they need to grow and develop, so that you can make an informed choice about both.
Baby Formula Considerations
To help you carefully weigh both Holle and Enfamil, it is important to consider where the ingredients come from, what are the rules and regulations to the manufacturing of both baby formula companies, and how well each brand meets the nutritional and digestive needs of your infant.
For each brand, we show the pros and cons of both baby formula options as well as features and special qualities that can be beneficial when making a choice in what is the right baby formula for your little one.
Holle History
Founded in 1933, this company has been producing organic infant nutrition for over 80 years. From the very beginning, Holle has made all baby formulas free of preservatives and synthetic additives.
Within the last 35 years, Holle has been available in over 40 countries across Europe and is known to have the best in infant nutrition for their holistic quality and wholesome ingredients.
This family owned and operated company sources locally. Holle only has infant nutrition and the wellbeing of children in mind during the manufacturing process.
Enfamil History
This baby formula brand began in the late 1950's and is currently owned by Mead Johnson, which was recently enveloped by the British company Reckitt Benckiser.
Enfamil is well known in America and is a popular choice of pediatricians because of the brand's ability to meet many digestive and developmental needs.
This conglomerate owned company is part of a pharmaceutical and health-based commercial company.
Baby Formula Where to Start
Studying the ingredients list very carefully on any box or can of baby formula you may notice many similarities and some glaring differences.
Start by familiarizing yourself with any ingredients you don't recognize and then look for the ingredients that matter most: proteins, carbohydrates, fats, minerals, amino acids, and vitamins like iron, vitamin C, and B5.
Another point to pay attention to is the organic and GMO statues as well as the number of ingredients, the fewer the better.
The rules and regulations that govern the manufacturing of each brand can make the difference between excellent nutrition and nutrition that can cause long term health problems.
Holle
Holle is owned and sourced by families and individuals that live, farm, and take care of the community around them. Holle is in complete compliance with EU regulations that only allow the very best in natural foods, never adding any harmful chemicals, fillers, GMOs, non-lactose sugars or altered ingredients. At every stage of the manufacturing process they comply with multiple checks and balances.
Holle is Demeter Certified, which adheres to standards that go above and beyond EU baby formula regulations. Meeting only the highest expectations in every part of manufacturing from soil composition, animal welfare, labeling, all the way to final production.
When it comes to animal husbandry and care environments, Holle forbids hormones and steroids to ever be used, and all the animals live and eat in organically grown Demeter certification farms.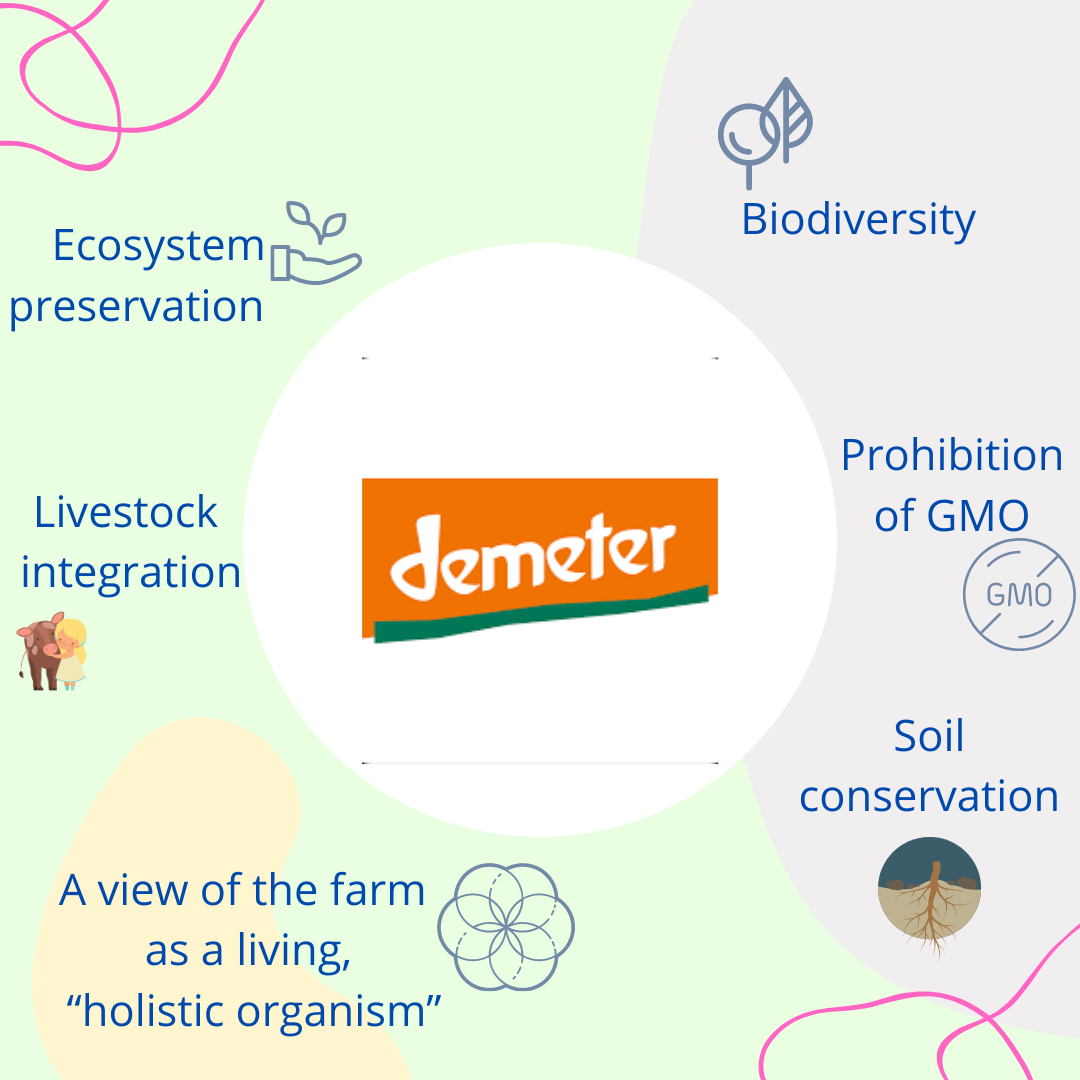 Enfamil
Owned by Mead Johnson and operated within this company's health and pharmaceutical business, Enfamil has been lab designed. They conduct research according to the Food and Drug Administrations (FDA) regulations on infant nutrition.
The FDA guidelines are very basic when it comes to laying out exactly what is allowed during the manufacturing process, and do not put restrictions on the way carbohydrates, proteins, and fats can be included in products.
The FDA does have limits and allowance for heavy metals, chemicals, fillers, and unnatural preservatives used during the manufacturing process. Unfortunately, as we have seen in the news lately, these rules are not enforced or blatantly disregarded.
Enfamil sources from American company farms that include the use of hormones and steroids. Antibiotics are used on these farms due to the crowded and unclean living environments. American dairy farms - the same farms that provide the lactose for Enfamil - practice caged systems where the dairy cows never graze outside on fields.
Holle
Holle is one of the most well-known and popular infant nutrition brands in Europe. Offering an extensive range of formulas and stages, these organic formulas are designed to grow with your little one and give them the extra support needed from day one all the way through those energetic toddler years.
Within the last 35 years, Holle has been available in over 40 countries across Europe where it has achieved a Demeter Organic ++ Certification from the EU ensuring that each baby formula is chemical-free and preservative free. It also has no added sugar, GMO's, heavy metals, wheat, soy, or nuts.
Holle is filled with all the natural vitamins and minerals that are necessary for your baby's growth and development and 100% organic lactose as the main carbohydrate. Holle does use organic vegetable oils, omega fatty acids, and in some stages plant based maltodextrin.
Making the leap across the ocean, Holle is now the choice of many American parents who appreciate the 100% organic cow's milk, goat's milk and A2 milk based formulas.
With the Holle brand, many American parents are finding the perfect answer for all their little one's nutritional needs including those with a sensitivity and intolerance to lactose.
Holle Bio Cows Milk Stage Pre
Age:   0-6 months
Size:   400g / 14oz
Why Choose?
No maltodextrin, Biodynamic, Demeter, and Organic Certified (Organic ++), Whole milk is main carbohydrate = more Demeter quality milk, less vegetable oils
Holle stage 1 - Perfect as a standalone or as a healthy breastfeeding substitute, stage 1 is made for babies up to six months and contains vitamins and minerals for immunity, digestion, and bone strength.
Holle stage 2 - Provides all the nutrients to support your growing baby's needs. Nutrition for healthy brain development, immune strength, and digestion.
Holle stage 3 - Formulated for babies ready to start eating solids as a larger part of their diet.
Holle stage 4 - For toddlers over twelve months who are ready for cow's milk, but still need the support of extra vitamin D and iron that is missing from regular dairy milk products.
Holle Goat Milk Stage 1
Age:   0-6 months
Size:   400g / 14oz
Why Choose?
Biodynamic Organic A2 Whole Goat Milk, Organic Maltodextrin, No Palm Oil
Holle Goat stage 1 - Ideal for newborns to six months who may have a milk sensitivity or intolerance and need a formula that is easier to digest.
Holle Goat stage 2 - Perfect for babies older than six months. Continues to pack a nutritiously full formula with all of the healthy vitamins and minerals that are necessary for growing babies.
Holle Goat milk formula stage 3 - A follow-on formula for babies older than ten months all the way to toddlers under the age of two. This formula has additional fats to boost the immune system and normal brain development.
Holle A2 Milk Stage 1
Age:   0-6 months
Size:   800g / 28.22oz
Why Choose?
Biodynamic Organic Certified (Organic ++), Milk from cows with A2 beta-casein protein type, DHA/ARA, No Maltodextrin
Holle A2 formula stage 1 - Best for little ones from birth to 6 months that may have a sensitivity or intolerance to the beta casein protein in A1 milk.
Holle A2 formula stage 2 - Continues to support little ones that need digestive relief from A1 milk protein; this formula is for babies 6 months to a year that are transitioning to solid nutrition.
Holle A2 formula stage 3 - Continues to bring balanced nutrition for toddlers over a year, offering an organic A2 milk option that can't be found on the shelf at local grocery stores.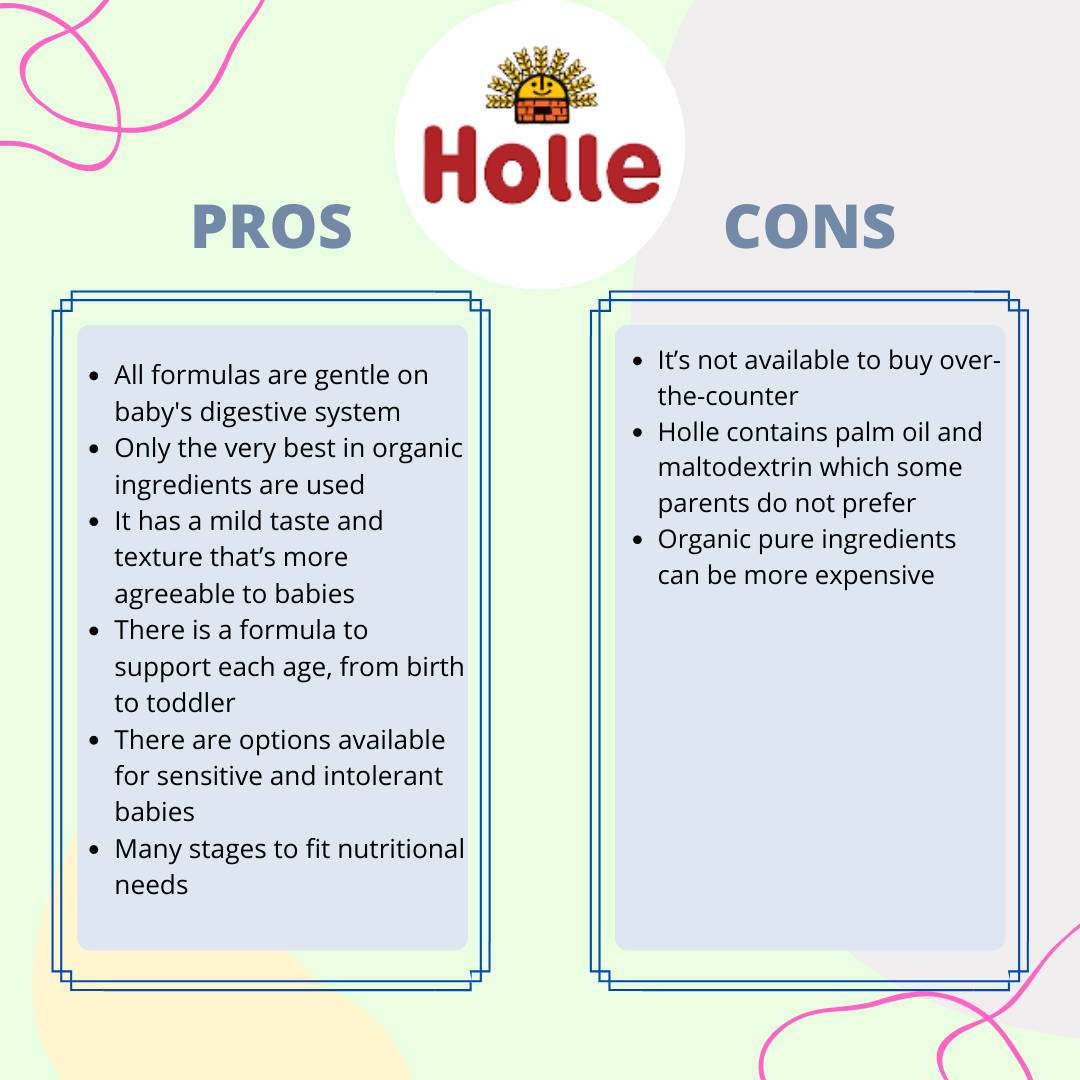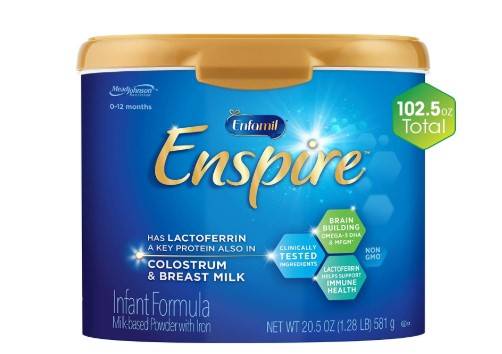 Enfamil is widely available in the United States. Parents and caregivers can easily find it over-the-counter and available for purchase at your local big chain stores.
With a wide range of baby formula options, Enfamil can suit many developmental and digestive needs. Enfamil advertises no artificial colors or sweeteners in any of their formulas and includes ingredients to help infant's child grow and develop, including DHA; a fatty acid that helps learning ability, plus MFGM for healthy brains.
Enfamil baby formulas are not certified organic and under FDA regulations may contain heavy metals, preservatives, and additives. Many Enfamil baby formulas contain soy in some form, with the highest percentage of soy products added to the sensitive and alternative lines.
Enfamil formula is available in powder, liquid, and pre-mixed forms making it easier for parents to mix at home or take on the go.
Available Enfamil Formulas
Enfamil Reguline™

infant nutrition for 0 to 12 months old.

Enfamil NeuroPro™

special nutrition for premature babies and newborns to 1 years old. Comes in Enfacare, Gentlease, and sensitive options.

Enfamil Enspire™

for age's newborn to 1 year old, available in Gentlease.

Enfamil A2™

for milk protein sensitivities or intolerance, ages 0 to 12 months.

Nutramigen®

Hypoallergenic Formula for cow's milk allergy starting at birth to 12 months.

Enfamil A.R.™

for reducing spit up in ages 0 to 12 months old.

Enfamil ProSobee™

soy based for sensitivity. Designed for newborn to 1 year old.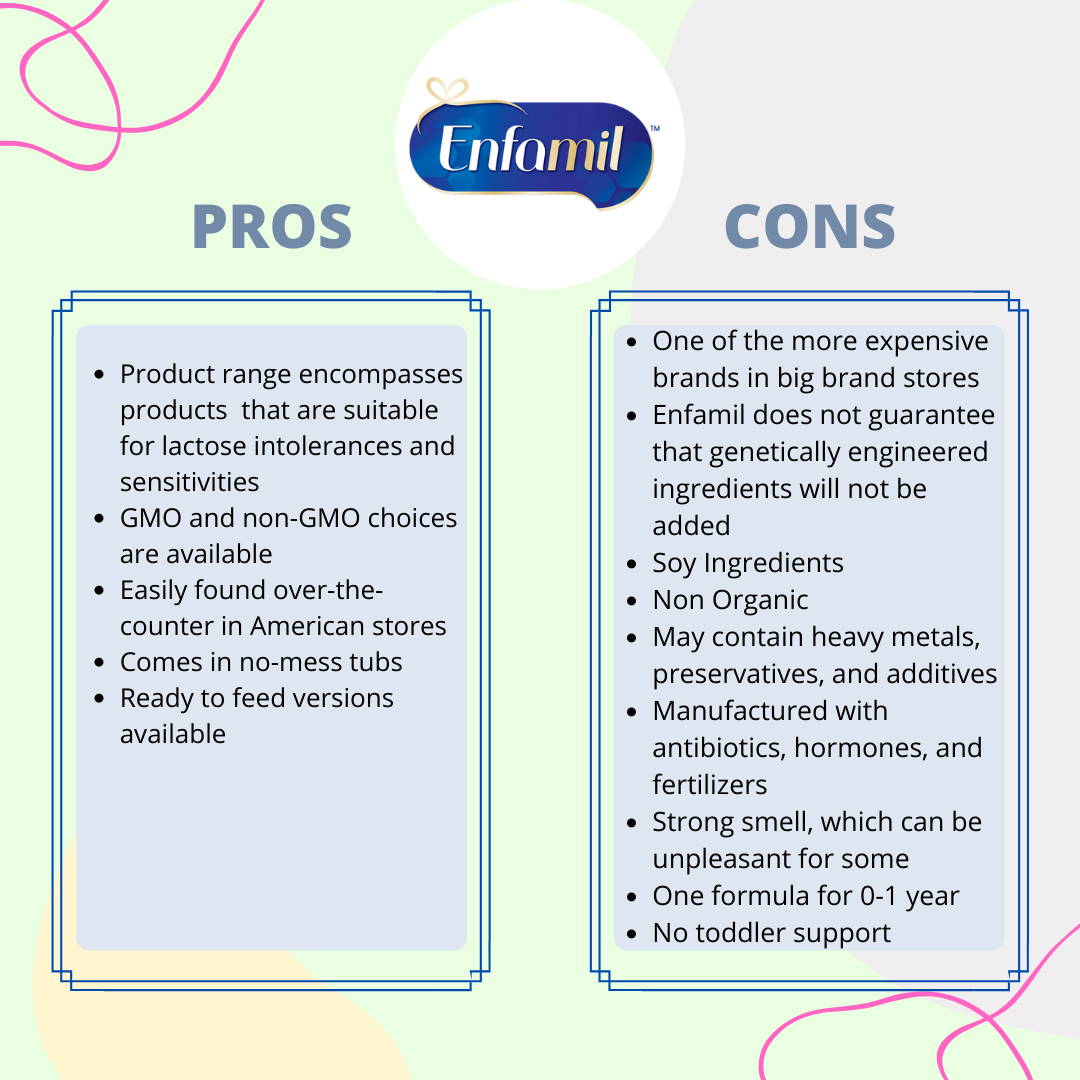 Holle vs Enfamil: The Winner
When we put these two brands head to head there were some highs as well as some lows that bare repeating.
With the Enfamil brand, we like that they advertise that their formulas will never contain artificial colors or sweeteners in their products. Plus, the ready to feed options are very handy for on the go and easily found at most major big brand stores.
We found that there are many options for digestive needs and options for preemies, unfortunately many contain soy.
What we did not care for with the Enfamil brand includes the lack of organic ingredients and questionable additives and preservatives allowed under FDA regulations. Many of these ingredients are proven to be detrimental to the health and development of infants.
We are also very concerned over the toxic ingredients and lackadaisical statement over GMOs contained in Enfamil products.
The highlights of the Holle brand include certified organic ingredients that meet and even exceed EU regulation and organic certified standards. All ingredients are sourced where animal welfare and manufacturing standards align to work together in a sustainable way.
Holle is one of the most well-respected baby formula brands in the world, with a decade's-long dedication to keeping nutrients intact with minimal processing. Furthermore, Holle has a strong commitment to never use corn syrup, GMOs, non-organic fertilizers, hormones, antibiotics, gluten, or soy.
The biggest drawback parents have when it comes to the Holle brand is where to purchase the Holle baby formula, as it cannot be found over-the-counter. But at MyOrganicCompany that is no issue at all, as it is our goal to keep inventory fully stocked for customers at all times. Plus, the ability to order in larger 6/8/12 packs ensures you can keep a couple boxes/cans on the shelf at all times.
Hands down, the organic, pure, and sustainable Holle baby formulas are the clear winner. With every bottle made, parents and caregivers can be sure their little ones are getting every ounce of nutrition needed to thrive and grow, without harmful or toxic ingredients that are found in over-the-counter baby formulas.
At My Organic Company it is our pleasure to carry a full array of Holle baby formulas to meet your little one's nutritional needs. Make sure to sign up for our twice weekly emails to get our next American vs European baby formula blog and other educational blogs delivered to your inbox. And while you're at, check out the popular and growing FB group, where you can chat with other parents about your formula needs and parenting experiences.