Babies have a way of making not only our mouths, but also in a huge way making our hearts smile. This unique quality is being celebrated everyday with quotes and captions that are worth repeating.
We hope you enjoy our compilation of all of these wonderful words and sayings, so you may use them in decorations around your home, office, and cards/letters to your loved ones.
The smile of a baby is filled with beauty and joy. A quote that captures this sentiment should be simple but descriptive to help remind us of this time that goes by so fast.
Some of our favorite baby smile quotes fall into 2 categories: How cute a baby smile is and how your baby makes the world feel when he/she smiles.
"Happiness is your baby's first toothless smile."
"A baby smiling at you is a beautiful reason to be happy."
"It is a smile of a baby that makes life worth living." Debrasish Mridha
Your Smile Quotes for Babies
"A baby's smile is a language that can melt anyone's heart."
"It feels like the heavens are calling for you when a baby smiles at you."
"A baby's smile is like the sunshine, it brightens up your day."
Is it hard to believe that anything is more beautiful than a baby's smile? But just wait, as early as 12 weeks of age the magical sound of laughter may occur. At around 5 months, babies may laugh and enjoy making others laugh.
"Nothing makes your heart sing louder than a baby laughing."
As time goes on, the melody of a baby will increase in frequency and intensity all through the first year.
"The whole world dances at the sound of a baby's laugh."
"A baby's laugh could simply be one of the most beautiful sounds in the world."
"Baby's laugh is like opium." -Neil Partick Harris
"A baby's laughter is the sweetest music that touches every heart." -Debasiah Mridha
Sweet little baby smiles can help convey the sentiment of a quote and capture the reader's heart all at once.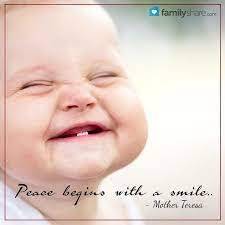 Carefree joy, an inquisitive heart, and an open mind for silver linings captures the innocence that brings a child's smile to life.
"A child's smile is worth more than all the money in the world." -Lionel Messi
"There's nothing more pure than an innocent child's smile. It's just so radiant with unadulterated happiness."
"The most precious sight, the smile of a child."
No matter the age, nothing can compare to your kid's smile.
Children's Laughter Quotes
"I think the most beautiful sound is a child laughing." -David Thewlis
"It is the simplest things in life that hold the most wonder; the color of the sea, the sand between your toes, the laughter of a child." -Goldie Hawn
"The laughter of a child is the heart of the home."
"Sugar and spice and everything nice, that's what girls are made of." -Robert Southey
"Little girls are just angels who have not spread their wings."
"Such a big miracle in such a little girl."
"Who run the world? Girls!" -Beyonce
Quotes for Baby Boy Smile
"Frogs and snails and puppy dog tails, that's what little boys are made of." -Robert Southey
Quotes for baby boy smile
"No joys on Earth bring greater pleasure than a little boy to love and treasure."
"Of all the things I held, my baby boy is the most beautiful."
"His little hands stole my heart, his little feet ran away with it." -Joshua Riley
A Reason for that Cute Baby Smile