An important topic at the forefront of infant nutrition has been the lack of and blatant disregard for regulations concerning the amount of heavy metals allowed in baby foods and formulas found in the United States.
Starting from the very first day, your baby's nutrition is critical to the health, well-being, and development that will help them grow and learn today and set the foundation for your little one's long-term health.
However, all too often, American baby food and formula contain heavy metals and other contaminants that are detrimental to meeting short-term and long term health and developmental milestones.
1. What are the Risks of Heavy Metals in Baby Formula?

2. Heavy Metals in Baby Formula

3. Are There

Heavy Metals in Baby Formula?

4. How to Avoid Heavy Metals in Baby Formula?

 
What are the Risks of Heavy Metals in Baby Formula?
Recent studies found that most baby food products in the United States contain an unnecessary and distressing amount of heavy metals.
The heavy metals in US baby foods increase your baby's toxic metal risk. Exposure from all sources should be minimized. Toxic metal exposure can harm your baby's brain and body development. Heavy metals have been linked with problems with learning, cognition, and behavior, as well as bone and organ growth.  
Heavy Metals in Baby Formula
Heavy metals are found naturally in all soil. Still, these toxins go unfiltered without proper regulations and can be picked up in greater amounts during soil fertilization, animal care, and manufacturing.
The four major toxic heavy metals are arsenic, lead, cadmium, and mercury; these metals have parents concerned and asking questions about the potential effects on their baby's health and development.
Lead was one of the first heavy metals identified as neurotoxic; as such, we know that absorption of lead poses serious implications to public health and is especially dangerous when ingested by infants.
Some chronic effects of lead poisoning in babies are colic, constipation, and anemia. Fetal neuro-developmental effects and reduced learning capacity in children are among the most serious effects.
With lead exposure contributing to 400,000 deaths per year, no amount of lead is safe to include in your diet.
When ingested, the risks include lung and bone diseases and cancer. Even with trace amounts regularly given in infant foods and formulas, cadmium can cause acute kidney failure later in life.
Particularly in children, prolonged exposure to toxic levels of mercury may cause severe nerve damage. Mercury poisoning has been known to slow cognitive development and slow the achievement of developmental milestones.
Indicating Mercury poisoning markers include impaired coordination, muscle weakness, degenerative eye sight loss, and hearing issues.
Daily exposure to arsenic reduces children's life expectancy dramatically and batters the immune system, allowing little ones to fight illness and disease.
Infants are more at risk of developing cancer and skin lesions, raising the risk of diabetes and cardiovascular disease.
Are there Heavy Metal in Formula?
An independent investigation by Consumer Report analyzed fifty nationally distributed infant nutrition checking for cadmium, lead, mercury, and inorganic arsenic, the type most harmful to health.
Unfortunately, the overwhelming results show that there were detectable levels of these heavy metal toxins, and organic foods were just as likely to contain heavy metals as conventional foods.
Organic certification in the US has proven that it does not always ensure safety for infants and toddlers.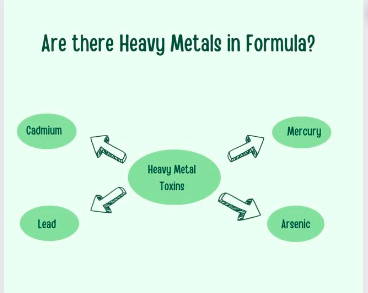 How to Avoid Heavy Metal in Baby Formula?
Alarmingly, we see every day more and more U.S-based manufacturers in the spotlight due to the detectable levels of heavy metals contaminating rice cereal, baby purees, and infant formulas.
Under FDA regulation, infant formula and baby food sold in the United States does not legally have to be tested for heavy metals. Vague guidelines on minimal levels of heavy metals allowed in your infant's nutrition, along with the lack of standard testing, expose your children to a toxic level that is dangerous.
Even with the most trusted organic American baby food brand, heavy metals that enter baby formula at various stages of the production process are not filtered out, regulated, or monitored.
European Baby Formula Solutions
Making infant health and development the number one priority, European Union regulations for heavy metals are thoughtfully designed and strictly enforced.
The European Union Reference Laboratory for Heavy Metals and Nitrogenous Compounds sets the highest standards for regulating levels of unwanted contaminants in infant nutrition.
These regulations were created not only to limit the heavy metals in the food coming out of the manufacturing process but also to ensure the verification of compliance with the feed and food law, animal health, and animal welfare rules.
Checks and balances ensure your littles receive the best in safe, healthy organic nutrition.
Heavy Metal Free Baby Formula