Updated: 03/07/2022
An up and coming topic in infant nutrition is the use of A2 milk as a gentle and healthier version of regular milk or formula that is A1 milk based. Proponents assert that A2 has several health benefits and is easier for people with milk intolerance and milk allergies to digest. Let's take a look at the science, benefits, and brands to this dairy detail.
Casein is the largest group of proteins in mammal milk, making up about 80% of the total protein content. There are multiple forms of casein in milk, including beta-casein, which is the most common. Beta-casein also comes in several different forms, among which are A1 beta-casein and A2 beta-casein.
The two beta-casein proteins are almost identical, each containing 209 amino acids, the building blocks of any protein. The only difference between A1 and A2 protein chains is in the 67th amino acid.
It is in this position that we find that A1 has a histidine amino acid, while A2 has a proline amino acid. Here, at amino acid 6, is where science believes that milk protein sensitive and intolerance problems may begin.
That one amino acid change means when the A1 protein is broken down, it can create the peptide BCM-7 which has been shown to have effects on digestive system function and cause inflammation of the gut. However, the proline found in A2 milk prevents BCM 7 from reaching our body.
What is BCM 7 (Beta-Casomorphin-7)?
X Put in very simple terms-BCM 7 is an opioid peptide, a small receptor. Unfortunately, this little piece of the beta-casein protein does not digest after being absorbed into the body. This often can lead to big problems such as indigestion, inflammation, and digestive distress.
In A2 milk, the proline amino acid in the chain prevents BCM 7 from being absorbed into our body, easing digestion and tummies.
A1 cows do not make proline, so BCM 7 is left to wreak havoc with digestive health until it dissolves in the blood.
A1 beta casein derived BCM-7 is linked in the gut to:
X delay in gut transit, mucous production, and thickening
X increased inflammatory activity of colonic cells
X triggering histamine release in mast/immune cell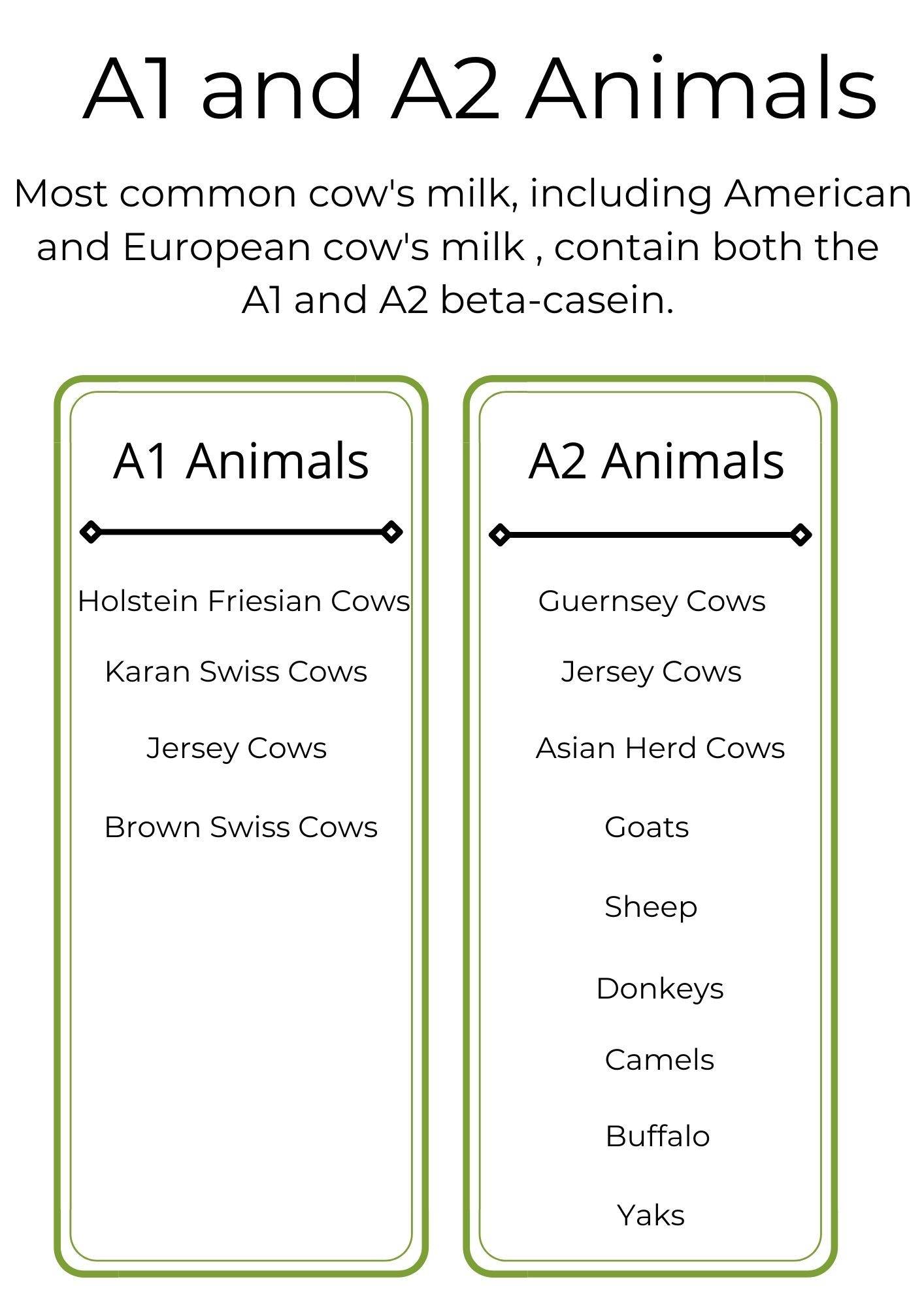 For babies who are lactose intolerant or have a milk sensitivity, milk protein is often the culprit.
Recent studies have pointed specifically to the A1 beta-casein protein as being the main cause of discomfort, inflammation, and digestive worries.
The good news is that future study has shown that when there are lactose concerns, infants who drink A2 only milk, such as goat milk, report no abdominal discomfort or other signs of intolerance.
Goat Milk
Infants that have an A1 beta-casein protein intolerance can greatly benefit from goat milk baby formula. Goat milk is among the group of mammal milks that contains only the A2 beta-casein protein.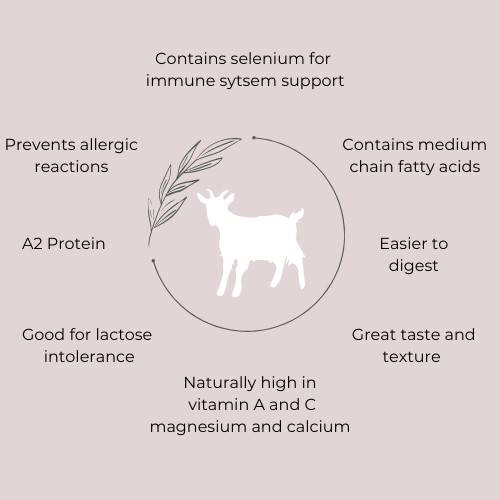 Cow Milk
A2 Infant cow's milk formula has the same protein and structure of A1 cow's milk baby formula, but eliminates the proline beta-casein protein that can cause digestive problems.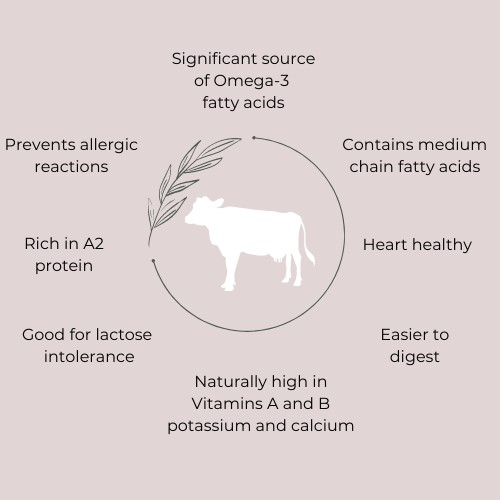 A2 Milk Nutrition - European Standards
With the strict guidelines and regulation set by the EU, the predominance of A2 milk protein is just one of the many advantages of our baby formulas.
European goat milk baby formula and Demeter certified skim-milk based A2 provides critical nutrients similar to breast milk, lends digestive and immune system support, and has lower environmental impact than regular cow's milk based baby formula.
European A2 milk based baby formulas gives your little ones pure, clean, and healthy nutrition that helps to meet each developmental and growth milestone, and sets the foundation for a healthy future.
Parents can have the confidence to know that each step of the process is carefully designed, from farm to formula, with your baby in mind.
✓ Clean Ingredient Alternatives to Breastfeeding
✓ Meets Strict EU Standards
✓ Naturally Has High Vitamins and Minerals, Including A, C, D, and Calcium
✓ Has 1/3 More Magnesium than Regular A1 Cow Milk To Boost Healthy Growth
X Without harmful Additives, Chemicals, or Preservatives Added
X Gluten-Free, Nut-Free, Soy Free
A2 Milk -European Baby Formula Brands
My Organic Company carries only the very best in mild, rich, and sweet tasting European goat milk-based baby formulas and Demeter certified skim-milk based A2 protein infant formulas that your baby will love.
Holle Organic Goat Milk Formula brings your baby the purest, most nutritious infant formula starting from day one. The milk used in this natural organic formula comes from cows and goats raised on biodynamic farms using gentle animal husbandry.
Sold in 40 countries, Holle is focused not only on producing healthy, clean organic baby formula for today's generation, but they also invest in future generations through sustainable practices that protect our environment.
With over 58 years of experience, Kendamil brings you the gold standard in goat milk formula, with unique properties that are not found anywhere else in the world.
Kendamil's goat milk formula has the first ever baby formula globally to have the verified presence of Human Milk Oligosaccharides (HMOs), the complex carbohydrate that exists in human breast milk. Kendamil goat is also palm oil free and vegetarian friendly.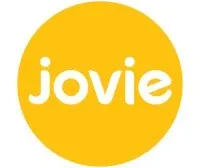 The major ingredient of Jovie Goat formulas is full cream goat milk. This main component ensures that the natural goat milk benefits are available.
Jovie full fat goat milk offers healthy fat benefits, easy to digest protein, fancy micronutrients and is the perfect option for little ones that have a cow milk intolerance and protein sensitives.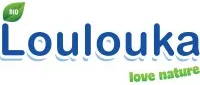 Loulouka designed its Swiss organic whole goat milk baby formula around the best ingredients and strict quality standards for optimal baby nutrition.
Thoughtfully designed without palm oil or coconut oil and with plant based DHA, Loulouka goat baby formulas are specially made with all families in mind, including those that prefer a vegetarian lifestyle.

Nannycare goat milk is produced by a Co-operative of 71 farmers whose farms are in some of New Zealand's richest pastures; this family owned and operated company's only focus is to produce the absolute best quality goat milk solely for use in baby formula.
With careful concentration and design, Nannycare has produced world class nutrition that is gentle, healthy, and tastes great.

The primary ingredient Kabrita goat milk baby and toddler formulas start with Dutch milk that is held to the highest of European standards. Along with a perfect balance of vitamins and minerals, Kabrita comes as close as possible to the composition of breastmilk.
Specifically designed for your little one's nutritional and developmental needs, Kabrita combines all the ingredients families look for in quality baby formulas with a great taste and smell that children love.

Founded in 1889, HiPP Organics understands how essential it is to provide babies with safe, wholesome nutrition for all families. Using only the highest-quality organic standard and ingredients for four generation HiPP is a great addition to any baby's diet.
Organic goat milk, perfectly balanced vitamins and minerals and decades of experience mean families have an option for their sensitive babies that is completely nutritious and well trusted.
When your little one has tummy troubles it can make day and nights a little harder for everyone. A gentle baby formula can make life easier for the whole family.
A2 beta-casein protein baby formula adds to an amazing list of reasons European baby formula has the perfect nutrition for even the most sensitive little ones.
My Organic Company is dedicated to being here for you and your baby at every stage, age, and milestone, with the very best in infant nutrition. We bring together a community of parents, European formula experts, and friends to support you in all the ups and downs a baby brings.