European baby formulas are known worldwide for having the very best nutrition to meet the needs of even the most sensitive babies. Loulouka goat formula is no exception with the highest quality ingredients produced in an ecological and animal friendly way.
The smaller fat globules as well as higher levels of medium chain fatty acids in Loulouka goat formula soothes immature digestive systems while making all of the most important nutrients available for quick absorption.
Loulouka was founded by experienced formula manufactures Peter, Christiaan, and Michael in 2016 with a clear vision: create the best possible infant formula with the finest ingredients.
After several years of intense research and hard work, Loulouka formula was created in 2019. Starting with a cow's milk based formula, Loulouka produced infant nutrition with two main focus points: to make no compromises with organic ingredients and to ensure sustainability across every part of the formula making process with great detail, including sustainable packaging as well as recycling 100% of its manufacturing waste.
All of Loulouka ingredients are sourced and produced in Switzerland following strict European Union certified organic standards.
Loulouka baby formulas meet the EU requirement for a minimum 98% organic content as compared to the USDA Organic certification which requires a minimum of 95% organic content.
Starting at the farm, European Union certification puts in place a sustainable agricultural system respecting the environment and animal welfare. This also includes all other stages of the food supply chain such as the whole farm management, food processing, production, and labeling.
These regulations ensure practices that are better for the animals and the environment. EU organic regulations make sure your infant has the best nutrition today and paves the way for your child's future.
Х Prohibition of pesticides and synthetic fertilizers
Х Prohibits GMOs
Х Limits for antibiotics to medical necessity
✔ Supports a high level of biodiversity and ecological balance
✔ Preservation of natural resources
✔ Free range requirements for livestock
✔ Species-appropriate animal husbandry practices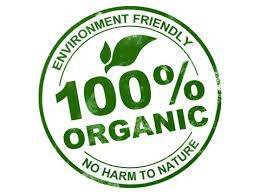 The EU has strict regulations for all infant nutrition. All European baby formula manufacturers must follow carefully designed regulations for what must be included and what is not allowed for a balanced nutrition and healthy development of babies.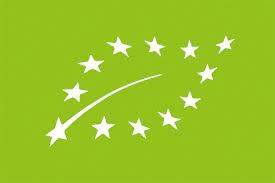 ✔ No pesticide residues
✔  DHA for normal brain development and eyesight
✔ Strict compositional requirements for all ingredients
✔ Required amount of ingredients for energy level, protein content, and protein processing
✔ No corn syrup or other refined sugar allowed
✔ Strict labeling rules
Loulouka goat milk formula contains organic whole goat milk that comes from Switzerland.
Loulouka chose this country especially because of the comprehensive ​​regulations on animal welfare. Swiss legislation ensures animal well-being and gentle animal husbandry practices with emphasis on ecological sustainability and harmony.
Farms are family owned and operated. The average farmer cares for 23 animals. This means that each and every animal receives personal attention and is granted the time needed for proper care.
Goat's roam freely in the Swiss Alps for grazing and in summer, they are given furlough: this way, they can rest up before heading back into the stables.
Swiss organic goat milk is at a higher standard of milk production. Happy goats make the sweetest and healthiest milk.
Lactose as the Main Carbohydrate
Unlike formulas found in big brand stores all across the US, Loulouka believes that lactose is the best primary carbohydrate that a goat milk formula can include.
Loulouka uses 100% organic lactose as the main carbohydrate, leaving out the cheaper harmful processed substitutes such as corn syrup, glucose syrup solids, sugar, brown rice syrup, sucrose, etc.
No Palm Oil, No Coconut Oil
The Loulouka goat milk recipe provides a more natural fat source for your baby and reduces the amount of vegetable oils needed in the formula to meet nutritional requirements.
By using whole Swiss organic milk, Loulouka goat milk formula is able to leave out the palm oil and coconut oil.
With these thoughtful changes Loulouka goat milk is better for your baby and better for the environment.
Loulouka uses whole goat milk to provide naturally occurring proteins so there is no need for the addition of toxic ingredients such as soy or soy bi-products like soy oil, soy lecithin, and soy protein.
This is very important because research has shown that too much soy in infancy can have lifelong negative effects.
Loulouka goat's milk formula is free from maltodextrin and other sugars that do not come from lactose.
Added sugars like corn syrup, brown sugar, and table sugar are difficult for your baby to break down and lead to health problems and obesity in later life.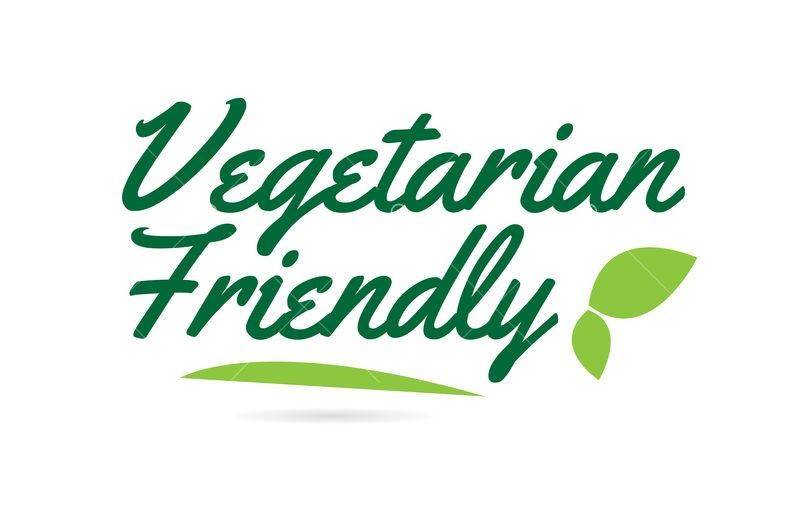 Furthering the commitment to families and the planet, Loulouka contains plant-based DHA derived from algal oil and completely leaves out fish oil. Pure marine algae is Loulouka goat formula's source of DHA and Omega 3.
Omega-3 fatty acids are important fats that provide many health benefits for your baby's cognitive development.
The first year of life is a crucial time for cognitive development. Choosing the right nutrition is imperative.
Loulouka goat's milk formulas are made with premium Swiss goat's milk that contains vital vitamins like A, C, D, K, and B-complex. Plus it has long-chain fatty acids omega-3 and omega-6 that are scientifically proven to be essential to building a healthy brain and nervous system.
For babies that are experiencing digestive worries due to lactose intolerance or are looking for the best alternative to cow's milk formula, Loulouka goat milk formula is a leader in nutrition.
Goat's milk formula protein generally forms a smaller, softer, and looser curd in the gut than cow milk formula, which makes goat's milk formula naturally easier to digest.
Goat's milk also contains oligosaccharides similar to those found in human breast milk. This acts as a natural prebiotic helping to encourage healthy gut bacteria which aids in digestion and absorption.
Goat milk contains selenium and a higher level of vitamin C, both of which support the development of the immune system.
Goat's milk naturally contains higher levels of certain vitamins and minerals. Compared to cow's milk there is more vitamin A, vitamin C (cow milk has none), vitamin B1, magnesium, and considerably more potassium available.
Continuing with environmental consciousness, goat milk is more sustainable and has a lower environmental impact. They're efficient, clean eaters, nibbling away at weeds and grasses. They eat without doing damage to the terrain.
Goats produce less enteric methane compared to cow's and are also more efficient at converting feed into milk.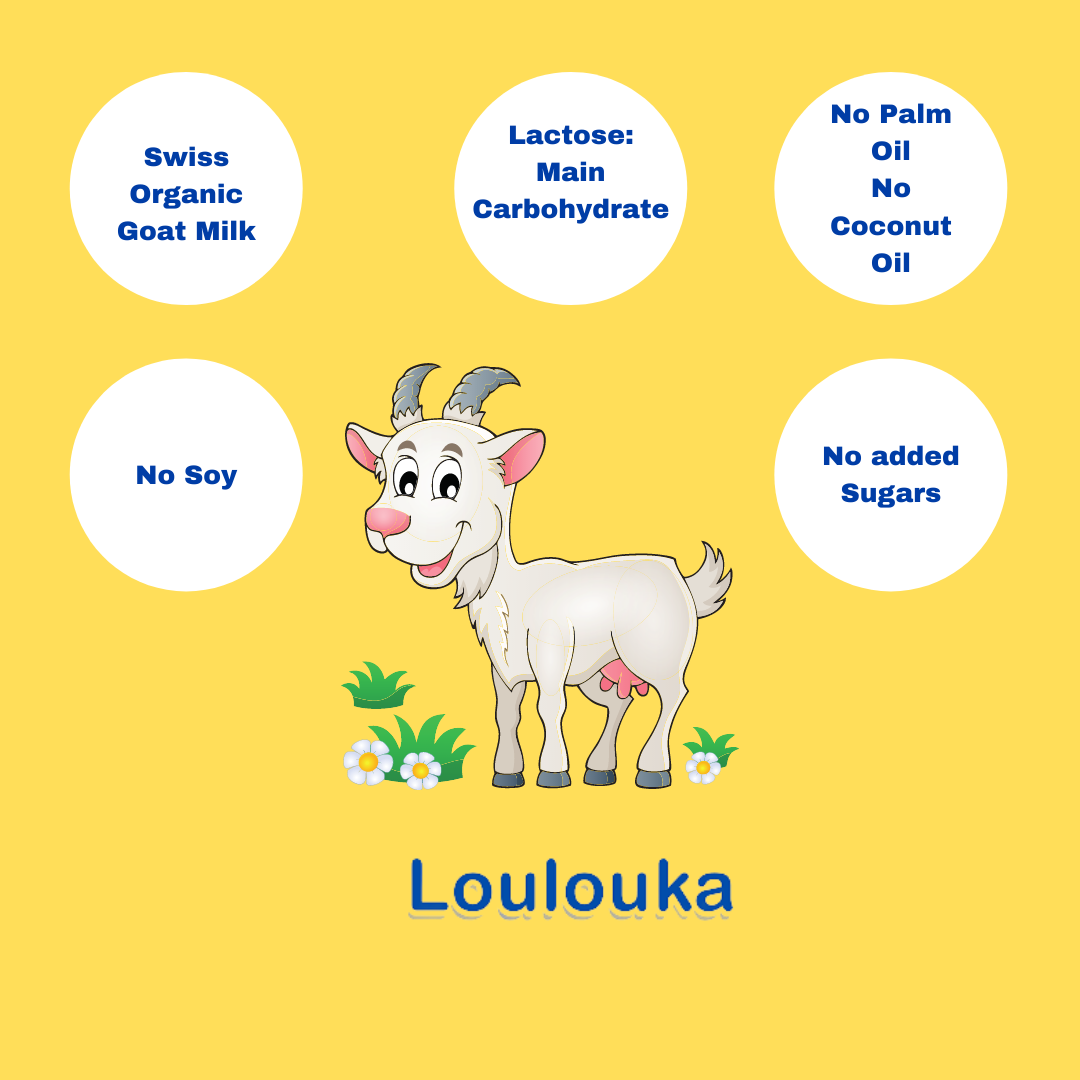 A2 milk lacks the A1 histidine amino acid, where science believes that milk protein sensitivity and intolerance problems may begin.
Loulouka goat milk formula is an A2 milk which is more easily digested and absorbed by infants, compared to baby formulas that are exclusively made with A1 protein cow's milk.
Goat milk protein in Loulouka goat milk formula is uniquely designed for infants that need digestive support, it is gentle on delicate tummies, and it is naturally closer to breastmilk.
Loulouka Organic Goat Milk Baby Formula Stages

Loulouka organic goat milk baby formula comes in two stages. Each stage is designed to give your little one the most balanced nutrition available.
Both stages are made in Switzerland using organic full-cream goat's milk. At all stages, Loulouka goat milk formula is designed to closely mimic breast milk in nutrition and ease of digestion. Plus, it's 100% vegetarian, made with DHA derived from algae.
Stage 1 formulas set a solid foundation for a lifetime of health. With the perfect balance of nutrition for development and growth.
At stage 2, Loulouka follow on goat milk formula is specially designed for when your little one starts to explore solid food. Made with the right amount of protein to carbohydrate ratio to meet the newly learned crawling and walking stages.
Loulouka Stage 1 Organic Goat Milk Baby Formula
Loulouka Goat Stage 1
Age:  0-6 Months
Size:  400g / 14oz
Why Choose?
No Palm Oil and No Coconut Oil, Organic Swiss whole A2 goat milk, Plant based DHA instead of Fish Oil, Vegetarian Friendly
Loulouka Stage 2 Organic Goat Milk Baby Formula
Loulouka Goat Stage 2
Age:  6-12 Months
Size:  400g / 14oz
Why Choose?
No Palm Oil and No Coconut Oil, Organic Swiss whole A2 goat milk, Plant based DHA instead of Fish Oil, Vegetarian Friendly
Loulouka Goat Milk Formula
Loulouka designed its organic goat milk baby formula around the best ingredients and methods for optimal baby nutrition that is ecologically responsible.
Swiss organic whole goat milk that has passed through strict quality standards ensures the quality that sets Loulouka goat milk formula apart from all other European goat milk formulas.
No palm oil, no coconut oil, and plant based DHA are just a few of the details that make Loulouka goat baby formula so special.
My Organic Company is proud to carry the vegetarian approved Loulouka goat milk formula as well as the pure clean nutrition of Loulouka cow milk formula in our incredible European formula line up.