In the first months of life, babies are growing fast and having a baby bottle of formula every few hours is not uncommon. During "leaps" - a fairly short period of time where a baby is going through major developmental milestones - your little ones may eat more frequently.
As time goes by and you and your little one settle into a feeding routine you may notice that your little one is not finishing the recommended amount of formula or skips a whole bottle all together. As babies' appetite decreases, parents' worries will sometimes increase.
One of the most common worries new parents have is whether their little one is eating the right amount of baby formula. Every baby is unique, but there are some basic guidelines to keep in mind when it's time to determine the amount of baby formula your little one should be eating.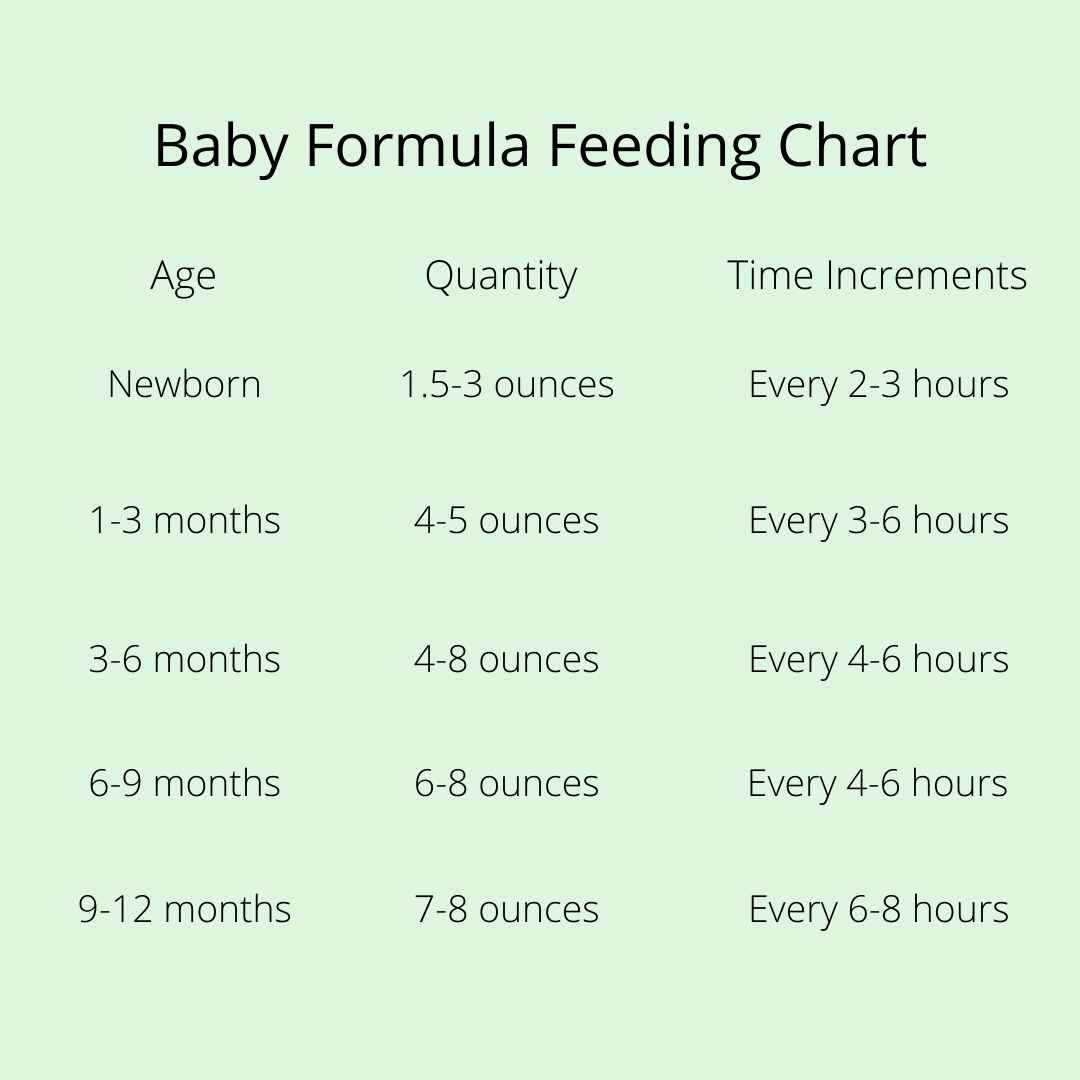 Newborn to 2 Months: During their first month, babies need to eat 8-12 times each day. That's about once every 2-3 hours. Plan on your baby drinking 1.5 to 3 ounces at each feeding.
After about a month, they'll start eating at least 4 ounces at each feeding. As bottle fed babies go through growth spurts, they may eat a little more.
At around 2 months, you may notice that as your little one grows so will their appetite; they may drink 4-5 ounces at each feeding, 3-4 hours apart.
4 months: Here is where your baby may go through a healthy slow phase and eat less than the recommended 6 ounces every 4-6 hours. This can be due to teething or just a general disinterest in eating as much as recommended.
When newborn growth spurt ends, the amount of nutrients your baby needs reduces, so their appetite may decrease accordingly. This is normal and will pass as each developmental phase occurs.
As long as the baby remains healthy and your pediatrician has no concerns, there is no need to worry.
6 months to 12 months: Babies drink as much as 8 ounces of baby formula at one time at this age. As solid food is introduced, it is not uncommon for a little one to go as much as 8 hours in between baby bottles of formula.
Similar to the four month stage, it is important to remember the exact amount your little one drinks will vary from day to day. As long as the baby remains healthy, you can trust your little one to tell you how much baby formula they need.
Is Baby Eating Enough Baby Formula?
When your baby is getting the right amount of baby formula, you will see outward signs that your little one is thriving.
An infant's diapers will say a lot. The first few days after birth, there may only be a wet diaper or two each day, but after that you should see six to eight cloth diaper changes in a 24 hour period along with two to five bowel movements.
Your pediatrician will be able to chart a steady even weight gain. After returning to birth weight, your little one should gain about 4-7 ounces per week until their sixth month, and 3-5 ounces from 6 to 18 months.
An infant that is getting the perfect amount of nutrition will look alert and be active during some parts of the day.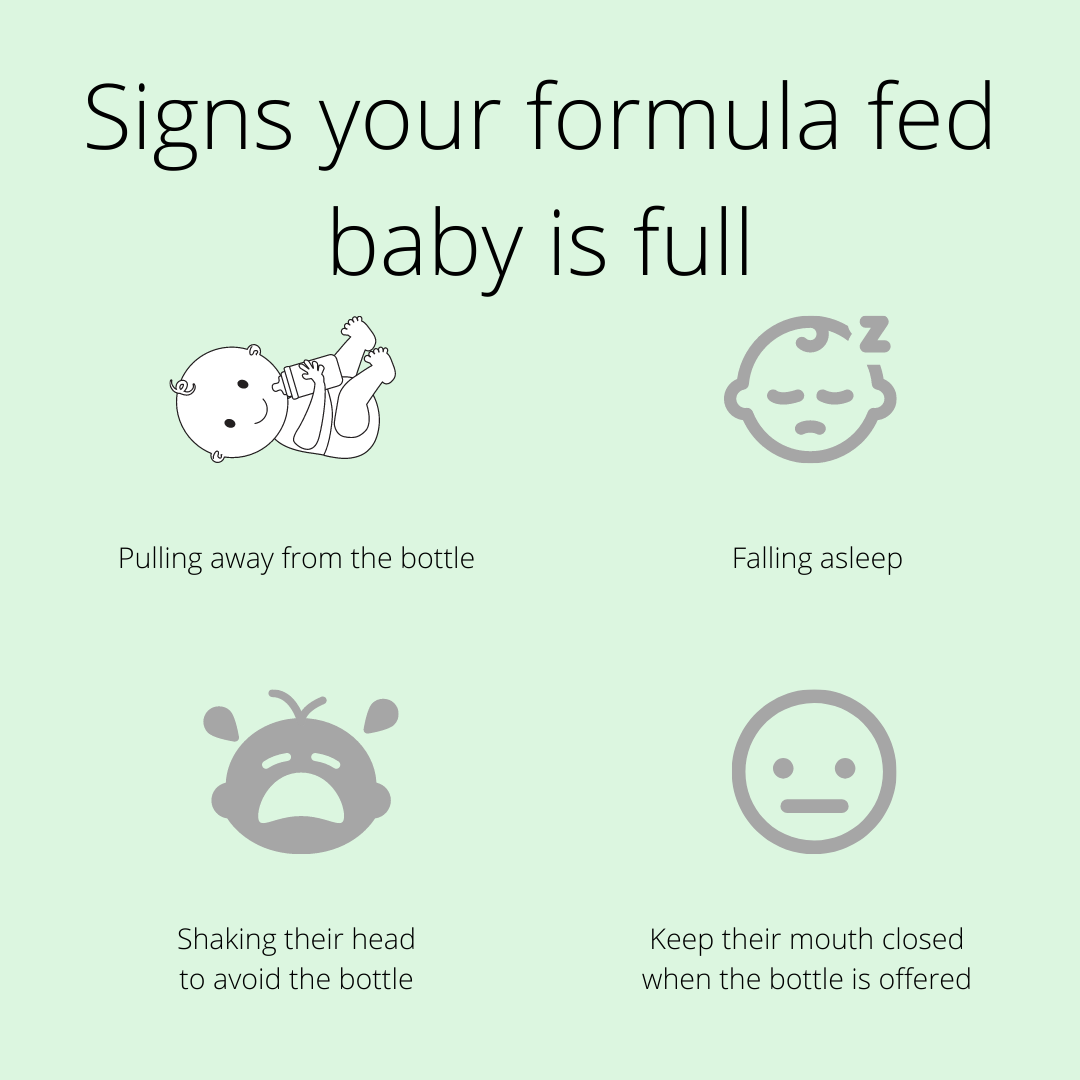 If Baby Is Not Eating Enough Baby Formula
Parents and caregivers know best. If you feel your little one is not getting enough baby formula consult with your pediatrician. Call your doctor immediately if you see any of these concerning signs:
❌ You find dark pee or orange crystals in their diaper
❌ Your little one skips several feedings to sleep
❌ Your infant pulls away from you in pain when you offer the baby bottle
❌ You little one is not content or overly fussy right after each feeding
❌ You find fewer than 6 wet diapers a day
Recommended European Baby Formula Stages
From newborn to the toddler years, European baby formula has the perfect nutrition for your little one. Designed with the perfect balance of protein, carbohydrates, vitamins, and minerals to sustain your little one during the times when your baby eats a little less and provides fuel for developmental growth spurts.
You can count on every stage of European baby formula to be free of soy, heavy metals, artificial sugars, preservatives, or unwanted additives. Only the best ingredients made with your baby in mind.
European Baby Formula Stage Pre
Specifically for newborns, PRE stage formula is the most gentle of all the European baby formula stages. Stage PRE formula is designed to be a breastmilk supplement as well as a complete nutrition when breastfeeding is not possible.
All European baby formulas in the pre stage are free from maltodextrin, starch, and gluten. They all meet the highest European baby formula standards, giving your newborn nutrition that is completely free of steroids, pesticides, hormones, and chemicals.
Best Baby Formula with Prebiotics/Probiotics
HiPP German Combiotic Stage Pre
Age:   0-6 months
Size:   600g / 21.16oz
Why Choose?
Prebiotics & Probiotics for healthy digestion, No Maltodextrin, Skimmed Milk, Omega-3 and 6 LCPs (DHA and ARA) for brain development
European Baby Formula Stage 1
Stage 1 baby formulas are best used from birth to 6 months but may be used all the way through the first year.
If you are starting your little one on a bottle for the first time, stage one is the perfect place to start. These European baby formulas are gentle and as close in composition to breastmilk as possible.
This stage is a perfect balance of nutrition that meets the highest European baby formula standards completely free of steroids, pesticides, hormones, and chemicals. Plus, the extra natural carbohydrates will help to meet the caloric needs of a growing infant.
Best Formula Closest to Breast Milk
HiPP Dutch Combiotic Stage 1
Age:   0-6 months
Size:  800g / 28.22oz
Why Choose?
Prebiotics & Probiotics for healthy digestion, No Maltodextrin, Skimmed Milk
European Baby Formula Stage 2
For little ones that are 6 months and older, stage 2 baby formulas are tailored to those who eat few or no solids, or still need a supplement to breast milk.
Growing babies who have a higher calorie need or those who are no longer satisfied at each feeding will benefit from the pure nutrition provided at this stage.
At this stage and all stages of European baby formulas, only the best in quality nutrition is allowed to help your little one thrive and meet developmental milestones.
Best Overall Organic Baby Formula
Kendamil Stage 2
Age:  6 to 12 months
Size:   800g / 28.22oz
Why Choose?
Whole Milk option with MGFM, DHA/ARA from Algae Oil instead of Fish Oil, No Palm Oil
European Toddler Formula Stage 3
Around 10 months, families may notice that their baby is no longer satisfied with their current European baby formula. Stage 3 offers balanced vitamins and minerals that are appropriate to fill in the gaps left by solid food exploration.
Stage 3 baby formula continues to give your little one nutrition that is completely free of steroids, pesticides, hormones, and chemicals with high quality 100% organic and EU certified European toddler formulas.
Best Organic Formula without Palm Oil
Loulouka Stage 3
Age:   10 months +
Size:   900g / 32oz
Why Choose?
Coconut Oil instead of Palm Oil, Milk from Grass Fed Swiss Cows
European Toddler Formula Stage 4
Stage 4 European formulas are for toddlers starting at 12 months. As your baby transitions to toddlerhood, they will begin to get the majority of their calories from solid foods. This stage is uniquely designed to ensure your little one receives nutritional support without being too filling.
Best Toddler Milk Formula
Holle Cow Stage 4
Age:   12 months +
Size:   600g / 21.16oz
Why Choose?
Vitamin D for better calcium absorption and bone strength, Biodynamic, Demeter, and Organic Certified (Organic ++), Chemical-free farming and positive animal husbandry
Baby Formula for Growth and Development
By choosing the very best in European baby formulas, you can feel confident in the knowledge that at every stage of development your baby will have their nutritional needs met with pure clean organic ingredients.
Our mission at My Organic Company is to carry baby formulas that mimic breastfeeding closely and are free of pesticides, chemicals, GMOs and artificial ingredients. We supply the perfect baby formula delivered to your door starting from day one.