HiPP organic has been feeding babies the very best in infant food since 1899. One very popular nutritional offering by this family owned company is the HiPP German baby formulas line.
HiPP German baby formula is a global brand that has earned a reputation for having ingredients parents feel good about and the support little ones need for healthy growth and development.
Let's take a look at the top reasons families choose HiPP German baby formulas for their number one choice as a supplement or alternative to mother's milk.
HiPP German is owned and sourced by families specifically with your baby in mind. These companies and farms were often started because of their own children's nutritional needs.
Held to the highest standards this EU Company uses only the very best in natural farming methods, never adding any harmful chemicals, fillers, or GMO ingredients, earning HiPP German top marks in European organic certification.
Following the EU infant food safety guidelines and regulations, HiPP German goes above and beyond in every aspect of soil composition, animal welfare, labeling and final production.
Additionally, HiPP German organic baby formulas must meet strict criteria that ensure clean ingredients without harmful chemicals, sweeteners, heavy metals, or hormones.
Nutritionally-complete, HiPP German baby formulas strive for a level of excellence with ingredients that are packed with all the essential vitamins and minerals, fatty acids, protein, and digestive reinforcement needed for cognitive and developmental growth.
For support of intestinal microbes and gut health, HiPP German contains probiotics in the form of organic lactic acid cultures.
Mimicking the probiotic properties found in breast milk, these live bacteria populate the digestive tract and play an important role in the breaking down of nutrients for absorption and ease of digestion.
Many digestive sensitivities and food allergies are soothed or avoided with proper breakdown of nutrients. Babies find relief from colic, reflux, and more.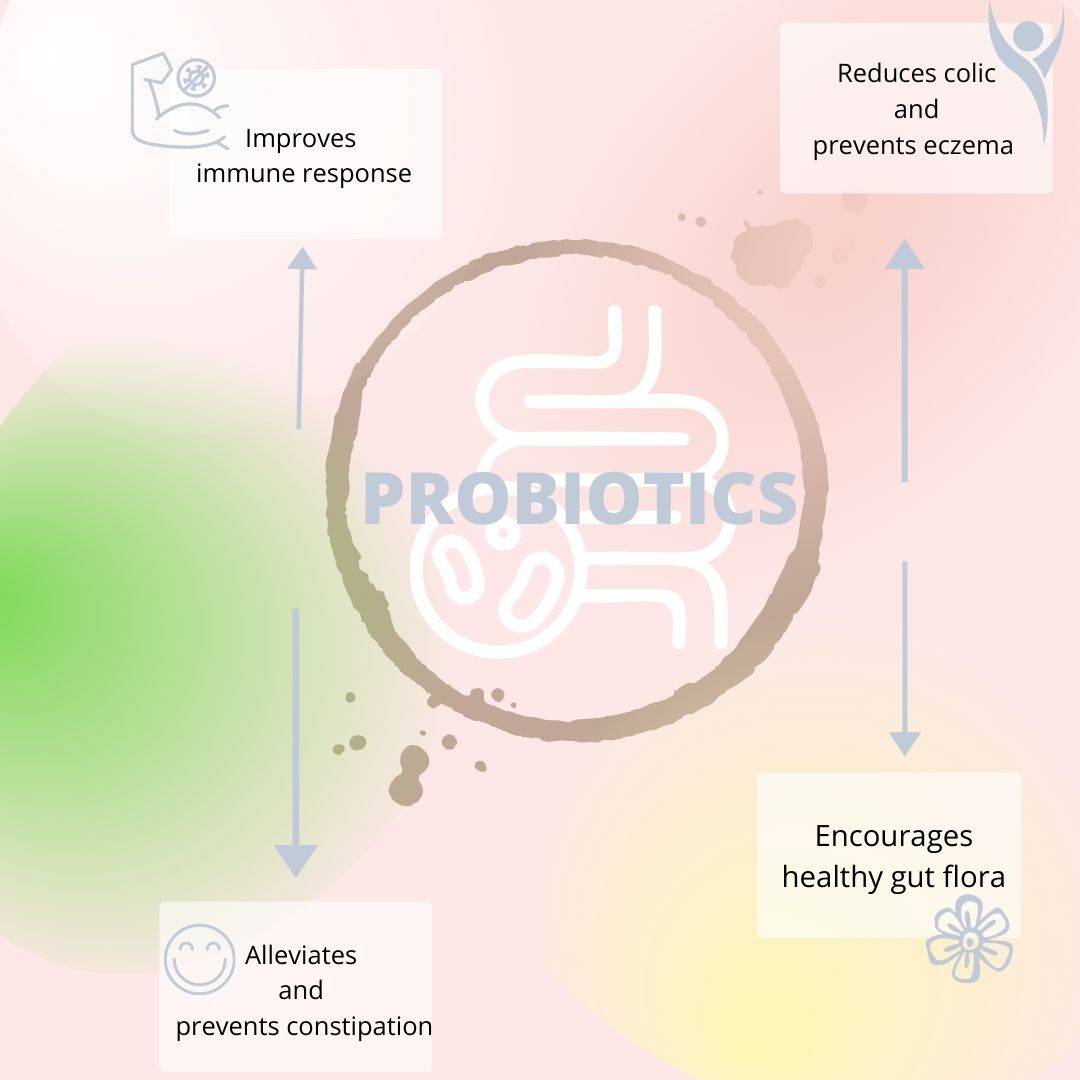 Along with digestion and absorption, a healthy microbe in a baby's system replicates the same immunity-boosting properties received during breastfeeding, which helps to combat the faulty immune response that causes eczema.
Special Formulas for Special Digestive Needs
Offering the widest variety of formulas with specialty options and stages that range from newborn to toddler, many families are finding nutrition that is far superior to over-the-counter baby formula in digestive support.
HiPP (HA) Hypoallergenic Combiotic
HiPP (HA) Hypoallergenic Combiotic baby formula is formulated with prebiotics and probiotics to support newborns all the way to toddlers.
HiPP HA is the perfect formula to start with for littles who are at a higher risk of food allergies or reflux, and for babies you suspect have a sensitivity or intolerance to cow's milk. This world class formula is made without maltodextrin or added starch in stage PRE to further ensure your little one receives proper nutrition without reaction.
HiPP HA Stage 1
Age:   0-6 months
Size:   600g / 21oz
Why Choose?
Prebiotics & Probiotics for healthy digestion, hydrolyzed milk proteins for reduced allergic reactions
HiPP Special Comfort has hydrolyzed lactose proteins as well as prebiotics and probiotics to help babies with absorption and digestion. By splitting the milk into simpler molecules HiPP Comfort makes it easier for a baby's body to process the cow's milk-based formula.
This specialized formula is a great choice for lactose sensitivity, colic, and babies that struggle with constipation on a daily basis.
HiPP Special Comfort
Age:   0 months +
Size:   500g / 17.6oz
Why Choose?
Prebiotics & Probiotics for healthy digestion, Reduced lactose content, Hydrolyzed milk protein
HiPP Anti-Reflux organic specialty was created to decrease tummy gases that cause excess belching and spitting up above what is normally expected after a feeding. Furthermore, HiPP AR settles stomach acids that cause reflux.
HiPP Anti-Reflux is made with natural locust bean gum, which is a long chain of soluble fiber that thickens liquids in the digestive system. This soluble fiber is also great for your gut health and reflux relief. Because this fiber is not absorbed in your body and turns into gel in your digestive tract, it helps soften stool and can reduce constipation.
HiPP Anti-Reflux
Age:   0 months +
Size:  500g / 17.6oz
Why Choose?
Organic Locust Bean Gum makes this creamier and easier for babies with reflux / spit up
HiPP Bio Combiotic has a combination of prebiotics and probiotics to create a healthy environment in the gut and intestines, which is important to a baby's overall health.
The prebiotics fibers found in HiPP Bio Combiotic, called galactooligosaccharides, are found naturally in lactose and are extremely beneficially in little ones by stimulating the growth and activity of helpful bacteria in the colon; this along with the probiotics bring balance and ease tummy troubles.
HiPP German Stage 1 Combiotik
Age:   0-6 months
Size:   600g / 21oz
Why Choose?
Prebiotics/probiotics for better digestion, DHA/ARA, and starch for fuller tummies
HiPP Kindermilch is intended to be used as your little one transitions to a cup. It is specifically designed with the nutritional need of toddlers in mind.
This high calorie formula has the optimal balance of nutrients to support eye, bone, and cognitive health while keeping up with the high energy needs of these busy years.
HiPP Kindermilch 1+
Age:  1 Year plus
Size:   600g / 21oz
Why Choose?
Prebiotics & Probiotics for healthy digestion, plus no Starch or Soy
---
Difference between HiPP UK and Germany
There are two differences between HiPP Combiotic German and HiPP Combiotic UK; the addition of starch as an ingredient in HiPP German stage 1 and 2 is the first difference. Of course, in the HiPP German stage 2 no starch, this does not apply. The second difference is that HiPP German has the addition of probiotics whereas HiPP UK does not.
Differences in HiPP German vs. HiPP Dutch
There is only one difference between HiPP Bio Combiotic and HiPP Combiotic Dutch; HiPP Dutch formula leaves out starch in all stages and HiPP German contains starch in stage 1 and 2 as well as an emulsifier in stage 2, which is not added to HiPP Dutch.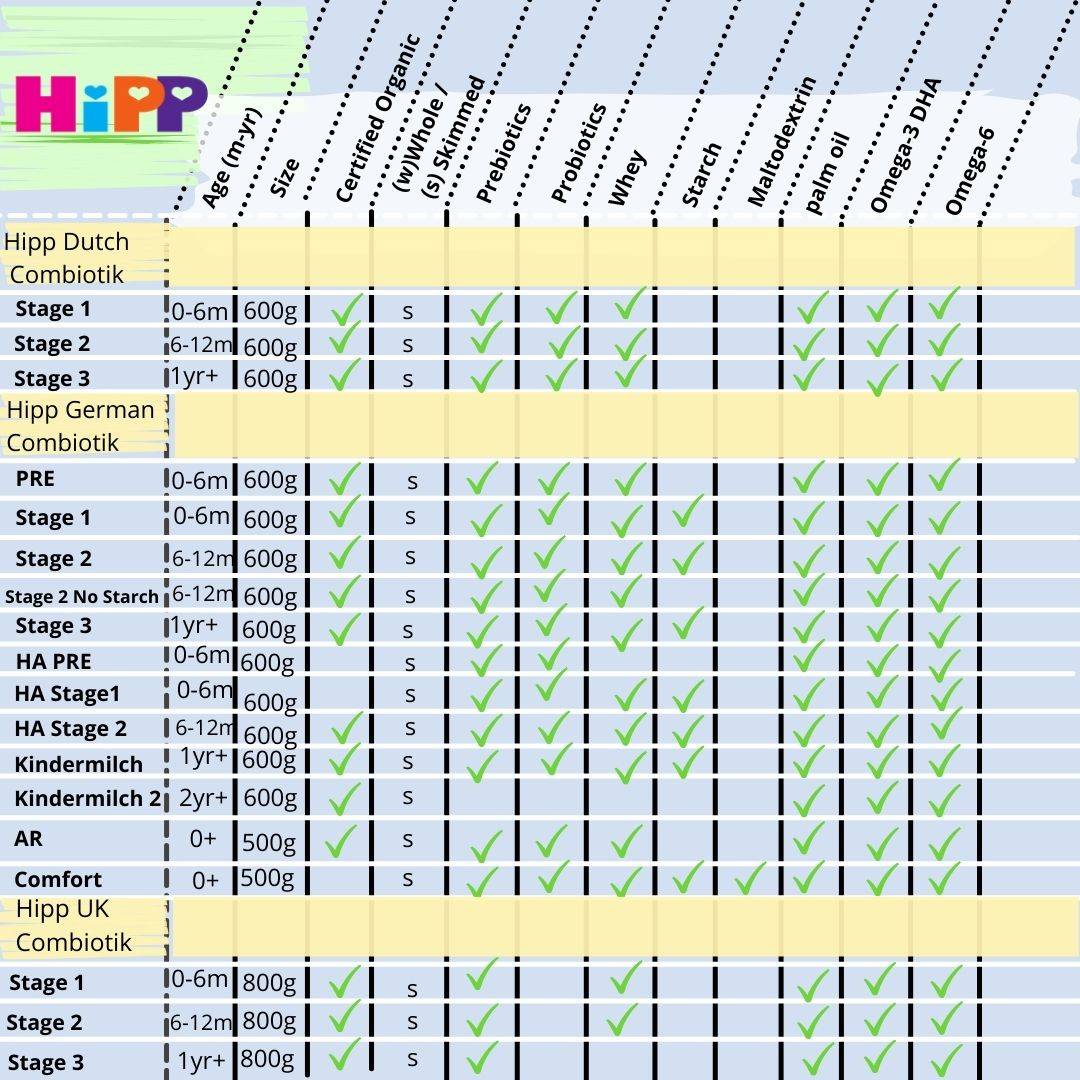 With a wide range of specialty formulas, HiPP German baby formula is the answer many parents are looking for to soothe tummy problems and comfort little ones.
With 100 years of experience HiPP only uses the best organically sourced ingredients and practices to support your growing baby.
My Organic Company continues to renew our commitment to bringing your family pure nutrition by offering HiPP baby formulas and other organic brands you can feel confident in.