If you are wondering when a good time is to start introducing a cup to your little one then the answer is probably now.
There are a few milestones that should be met first before you give up the bottle or breastfeeding but this time can be such a fun time of exploring and learning.
When you are ready to introduce a cup as an alternative to the breast or bottle, there are advantages to cup training earlier rather than later.
Introducing a real cup as soon as your little one can sit up helps your older baby or toddler gain mastery over their mouth muscles, while fostering fine motor skills and coordination.
This time of learning also lets little ones know that there are other ways to find formula or breast milk or even refreshing water or juice when appropriate.
By letting your little one know that there are other alternatives, it will make weaning easier when the time comes and even can be a helpful tool when mom isn't available to nurse.
There are divided thoughts on whether or not it is necessary to introduce your toddler to a sippy cup.
Also called training cups, sippy cups come in a range of styles but typically feature a spout-like lid, and are meant to help little ones ease bottle use while preventing spills.
Toddler sippy cups are a popular choice to ease the transition from bottles to open cups. Many parents think of them as training wheels to be used for a short amount of time.
On the other hand some experts say when babies drink from a sippy cup frequently over a prolonged period little ones can experience tooth decay and oral motor skill delays.
Another worry that many pediatricians show concern about is nutrition. When kids carry around a sippy cup repeatedly sucking on drinks between meals, older babies and toddlers may not be hungry for scheduled meals and feeding times.
When little ones have less appetite for daily foods, breastmilk, or formula, it can cause deficiency in nutrition and affect growth and development.
In moderation, toddler straw cups can be a great tool to help your toddler on the journey to drinking independence and learning self-hydration.
Approved by The American Speech-Language-Hearing Association a pop-up straw cup can help toddlers transition to using open top cups.
Best Straw Cup for Toddlers
Great features of straw cups include minimizing the risk of dental problems and spills. When used during mealtimes only, and never allowing them to become comfort objects, some pediatricians favor using straw cups over standard close lid sippy cups.
There are some developmental risks because your baby can successfully drink from a straw cup while still reclining and sucking, not sitting upright or fully tipping the cup to their mouth.
One transitioning cup that families and experts can agree supports healthy growth and the development of skills is the soft open top cup.
Teaching your older baby or toddler to drink from an open cup usually means the child is sitting and drinking, not moving around while drinking.
By using an open cup in a controlled environment your little one learns to drink independently and parents can make sure that the drink in the cup is supplementing nutrition and not overly filling.
Little ones can start to use an open cup as early as 6 months old. To determine when to transition from bottle to open cup is to look for signs of readiness.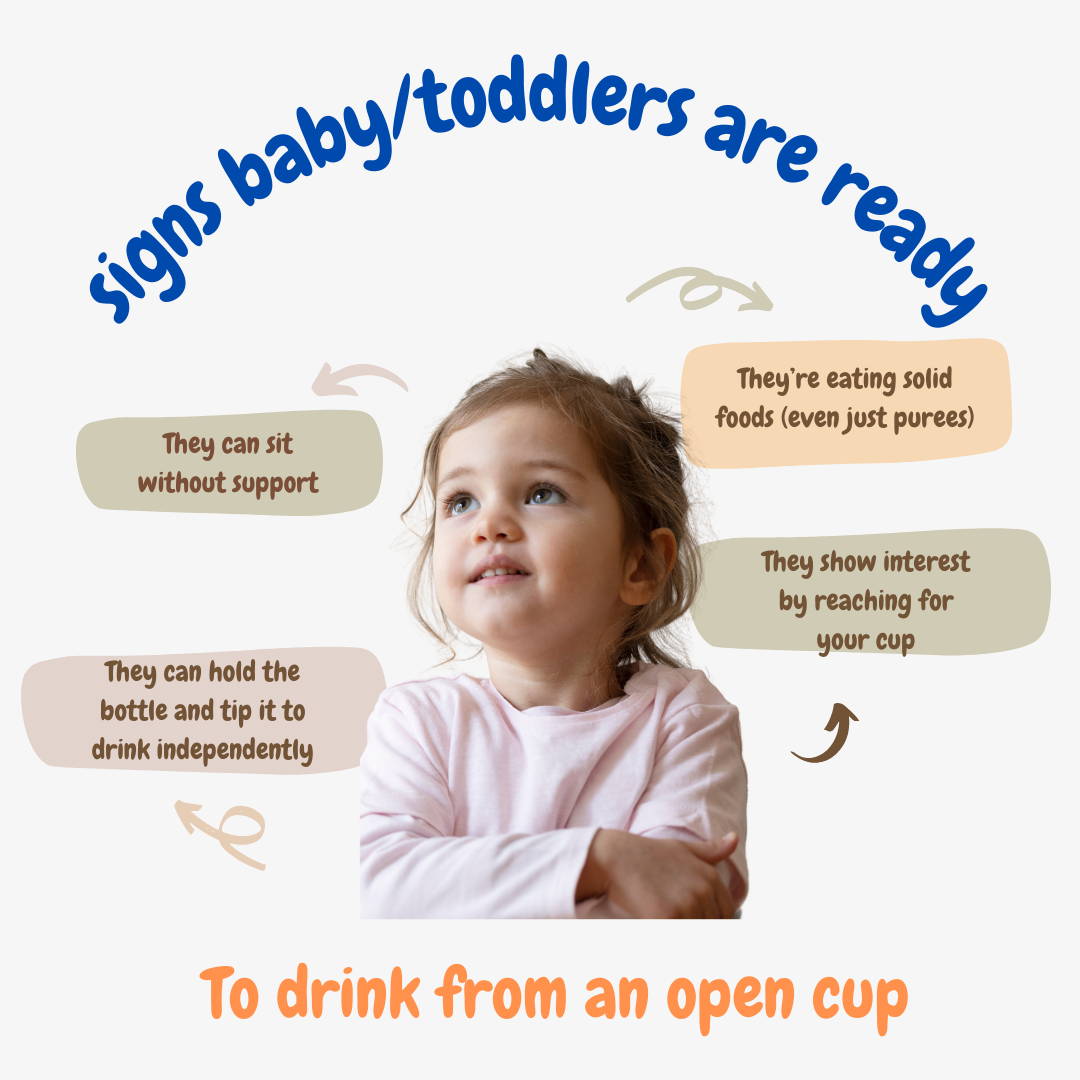 Families that feed baby breastmilk from a bottle or use a breast milk alternative find that starting to practice with a cup as early as six months helps to ensure your little one will be able to successfully transition off of the bottle around their first birthday.
As little ones approach 12 months, families start to research what will be the perfect nutritional supplement to solid food in a transition cup.
For breastfeeding families there are many benefits to continuing this special bond past the first birthday. A portion of her breast milk in a toddler cup each day can help bring a familiar feel and make the transition from chest feeding to cup easier.
If your one year old uses formula full time or as a supplement parents may consider whether to use whole milk or a toddler milk as a solid food supplement.
As babies' kidneys mature and can handle full fat cow's milk it is often not as easy as flipping a switch. Babies' digestive and nutritional needs may need some time before making a complete switch.
Toddler formula is for children between the ages of 9 months and 3 years and is the perfect transition between infant formula and whole milk.
Made with many all the ingredients families love in European baby formulas and avoiding toxic ingredients such as heavy metals, synthetics, soy and non-lactose sugars that are found in over-the-counter American baby formulas, these toddler milks are the perfect supplement to your toddler's solid food menu.
Organic European toddler milks are made with the highest standards and best quality ingredients including organic animal milks, vitamins, minerals, and nutrients to balance your toddler's daily nutritional needs.
Personalized Toddler Cups
Known for having a taste and texture that toddlers love and digestive and developmental support parents and caregivers appreciate, European toddler milks are perfect for the transition from bottle to cup.
European toddler milk can be found for older babies and toddlers up to 3 years old and includes powdered nutrition for even the most sensitive little one.
Best Toddler Goat's Milk Formula
Holle Goat Milk Stage 3
Age:   10 months+
Size:   400g / 14oz
Why Choose?
Biodynamic Organic A2 Whole Goat Milk, Organic Maltodextrin, No Palm Oil
Gentle skim milk and whole milk nutrition closely mimics the benefits of extended breastfeeding for better brain development and strong bone growth support.
Best Toddler Whole Milk Formula
Kendamil Stage 3
Age:   12 Months+
Size:   800g / 28.22oz
Why Choose?
Whole Milk option with MGFM, DHA/ARA from Algae Oil instead of Fish Oil, No Palm Oil
With over 150 years of combined experience making formulas HiPP and Holle cow's milk based toddler milks are trusted and well loved whole milk alternatives that have the benefits of prebiotics and probiotics to settle gut flora that may be in fluctuation due to the introduction of new solid foods in your toddlers diet.
Best Toddler Formula with Pre/Probiotics
HiPP Kindermilch 1+
Age:   1 Year Plus
Size:   600g / 21oz
Why Choose?
Prebiotics & Probiotics for healthy digestion, plus no Starch or Soy, Skimmed Milk
It is important to note that if your baby is on a sensitive or A2 milk formula it usually best to continue this same type of nutrition when choosing which toddler milk is best for your growing little one.
Best Sippy Cup for Milk for Toddler
For every stage of your littles one first years, My Organic Company is here for you. We are proud to carry only the very best European baby formula and toddler milks to suit your little one's healthy growth and development.
If you are looking for the perfect nutrition for your toddler we would love to be a part of this process. Our knowledgeable customer care team will happily chat with you one-on-one to find the toddler milk that is just right. We look forward to hearing from you.