Breastfeeding vs formula feeding is a hot topic for parents and caregivers all across America and Canada as they make the choice to best serve their families. At first glance, the price of supplementing or formula feeding may seem overwhelming.
Today we will break down the costs associated with feeding a little one during the first year to give you a better insight to how affordable feeding your little one with My Organic Company can be.
One of the biggest myths surrounding breastfeeding is that it is free. This could not be further from the truth. Expenses related to breastfeeding can begin the first time caregivers speak with the hospital lactation consultant at their baby's birth.
If you continue to need breastfeeding consultations the cost per session can quickly add up. While the cost of these services depends on your family's location, some estimates report a lactation consultant who is certified by the International Board of Lactation Consultants can charge anywhere between $150 to $350 per hour.
If your baby is born with a tongue- or lip- tie which is a source of breastfeeding concerns, you might face the expense of corrective surgery called a frenectomy. The price of this procedure can vary anywhere from $250-$800, with an average cost being about $500 with insurance.
From there, many essential breastfeeding supply purchases will be made over time and when it is all said and done can add up to at least $1,000. These purchases include but are not limited to: a breast pump, breastfeeding bras and pads, breastfeeding pillow, nursing clothes, breast cream and lactation boosters.
In addition to these direct expenses, breastfeeding also has an indirect cost -- time. If a mother exclusively breastfeeds or pumps for an entire year, they are likely to spend around 1,800 hours or more providing breast milk for their little ones.
For the majority of mothers, the time that is spent away from work to breastfeed or pump is not paid. In fact, worries about breastfeeding and finding the right work-life balance affect as much as 51% of mothers returning to work. Breastfeeding "costs" should always include whatever wage mom could have earned if she had not taken a break to pump or feed.
With all of this in mind, it is easy to see that breastfeeding is not as "free" as families are led to believe.
To calculate the cost of formula feeding, we will start with what you may need no matter the brand or type of baby formula your family chooses.
Bottles
Baby bottles are a must for all formula-fed babies, these typically cost around $5 - $10 each. We strongly recommend not using plastic baby bottles as recent studies have linked exposure of the chemical BPA, found in all plastic, to damaging of developing brains and tissues as well as a heightened risk of cancer later in life. When it comes to glass baby bottles vs. stainless steel baby bottles the choice is yours, as both are made without harmful chemicals and are toxin free.
You can expect to spend at least $50 on bottles in the first year as you try to find the bottle your baby likes the most, replace lost baby bottles, or if you wish to refresh worn out baby bottles.
Bottle accessories
Baby bottle accessories are items that can make formula feeding a little more carefree. Items such as bottle brushes cost $3 to $7 each, and a bottle drying rack runs about $15. For newborns and little ones who prefer warm baby formula over cold baby formula, a bottle warmer runs $25 to $50.
Water
Depending on the area and dynamics of your municipal water source, it may be necessary for your family or caregiver to buy clean water to use to mix your little one's baby formula. This can range from a few cents per bottle upwards to a few dollars.
Baby Formula Cost Per Month: United States Baby Formula vs European Baby Formula
To understand the real cost of baby formula, the first step is to estimate how much baby formula your baby will need. Babies will consume an average of 25 ounces of baby formula per day during their first year.
To calculate the cost of baby formula, families need only to find out how much the American brand costs per ounce. On the low end its 7 cents per ounce for generic brands and the higher-end brands Similac and Enfamil range from $0.18 to more than $0.19 per fluid ounce depending on the retailer and formula type.
For the majority of American baby formulas for 25 ounces of milk per day, families can expect to spend between $638.75 upwards to $2,920 in your baby's first year – depending on the American baby formula brand you choose.
Examples of the lower end American baby formula costs:
Wal-Mart Brand Parent Choice Brands
$0.07 X 25oz = $1.75/day
$1.75 X 365days =$ 638.75/year
Of course for specific dietary needs and ready to feed versions of American baby formula you can expect to pay more.
Enfamil Nutramigen
This canister of specialty formula in the standard size is 12.6 oz. of baby formula. It's a powder mix, which is typically the least expensive. However, this nutritionally specific powder formula is for babies with sensitive feeding needs, and it costs approximately $10 more per container than regular powder formula, making it among the most expensive.
Of course, all of these are averages. Your baby would likely need more baby formula in the middle of the first year of life as they grow and then begin gradually cutting back as solid foods are introduced.
Buying the Cheapest American Baby Formula
When it comes to saving money on everyday items we need, we sometimes resort to generic versions to save a few dollars or cents. In the case of baby formula, the "cost" of saving a dollar on baby formula is way too high for your baby's health.
American baby formula brands use unwanted fillers such as soy, non-lactose sugars, toxic synthetic ingredients and heavy metals to cut costs.
At the very least, these harsh ingredients can be a major contributor to infant digestive issues such as constipation, indigestion, bloating, and nausea. At worst, in daily amounts, these anti-nutritional ingredients can hamper proper growth and development of infants and lead to long term health problems such as diabetes and kidney failure.
The risks of saving a few dollars are simply not worth the immediate and future health of your little one. The added healthcare costs in the future are pennies on the dollar for what you would pay today in prevention of these risks.
When comparing baby formulas, based on price per fluid ounce, European baby formulas are typically perceived to be more expensive than the over-the-counter American counterparts.
The price difference equates to the high quality ingredients that are sourced from certified organic farms. European baby formulas only use milk-based lactose as the main carbohydrate and you will never find harmful cost cutting ingredients such as GMOs, soy, additives, and preservatives.
What you will find is pure clean ingredients. Natural vitamins, minerals, and an organic milk base to promote healthy growth and development in all infants.
Although nutritionally far superior to American baby formulas, parents and caregivers will also find that European baby formula prices are measurable to name brand over-the-counter baby formulas.
Here is a quick comparison of some of the better known American baby formulas vs European baby formulas:
Kendamil Stage 1
Age:   0-6 months
Size:   800g / 28.22oz
Why Choose?
Whole Milk option with MGFM, DHA/ARA from Algae Oil instead of Fish Oil, No Palm Oil
American Vs European Formula Brands Comparison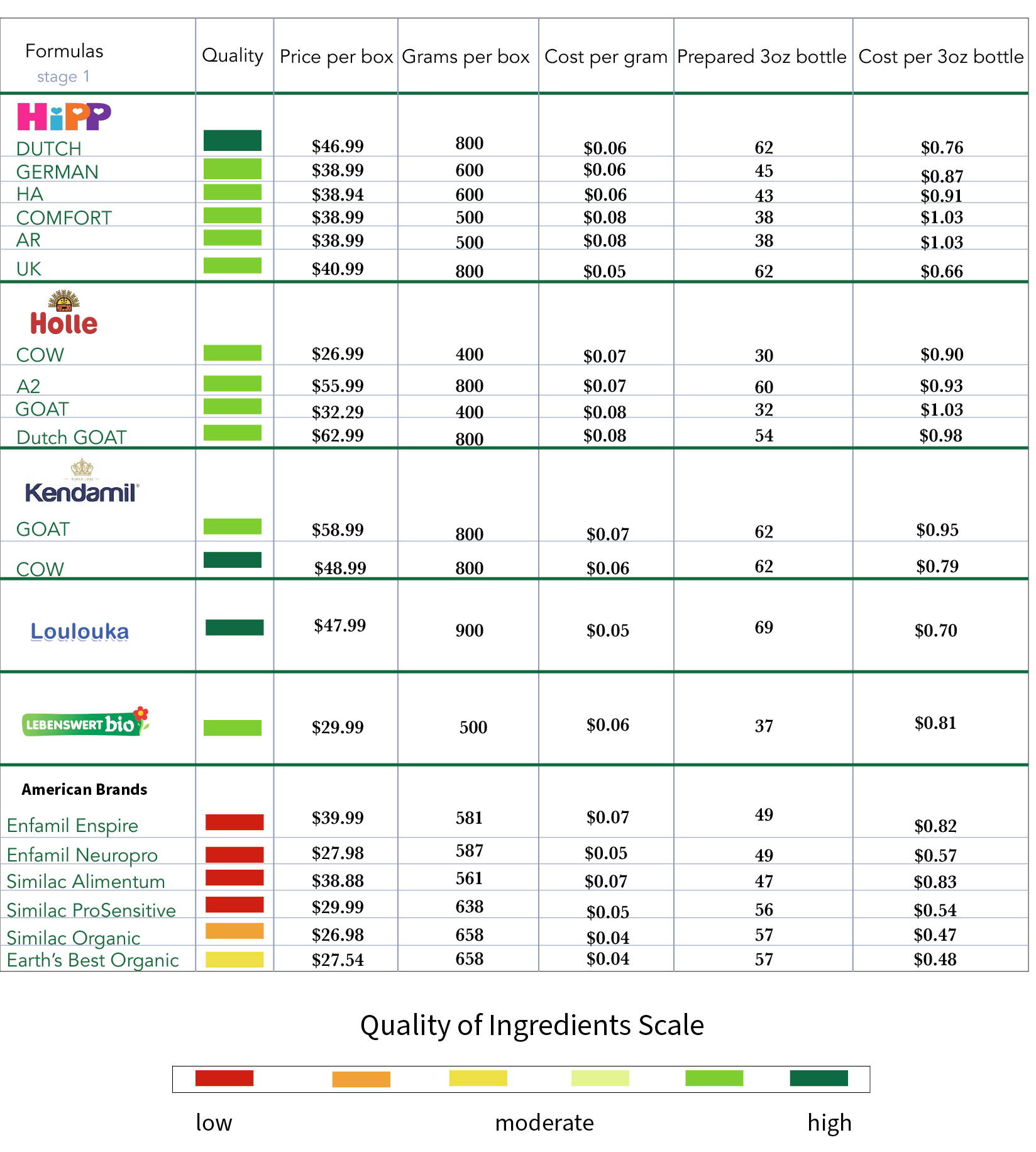 Reducing Costs of European Baby Formula
Our goal at My Organic Company is to bring the very best in pure, clean, and organic nutrition straight to your door at an accessible price. Here are a few ways to get the best value for your money.
Start with a single box or canister
With the first order it can be tempting to stock up on nutrition you know will be the greatest benefit to your little one's health, growth, and development. We suggest at this point to keep in mind that each baby is unique. It may take trying more than one nutritionally specific European baby formula to fit your little one's needs.
Due to food safety regulations and guidelines, once a shipment of European baby formula has safely reached your home it cannot be returned. By purchasing a single box in the beginning you will be sure not to spend money on a product you can't return if it is not the best fit for your baby.
Buy in bulk and subscribe to save
Once you have found the perfect European baby formula to fit your littles one's nutritional and digestive needs, it is time to take advantage of the buy in bulk discounts. You can save up to 13% per container depending on the brand, when you buy a 6 or 12 pack or 5% per container with an automatic delivery subscription on single orders.
Weekly emails
Keep with the latest in European baby formula news, promotions, and discounts by signing up for our weekly newsletter. Visit My Organic Company home page and scroll to the bottom to enter your e-mail address to be informed.
My Organic Company is dedicated to bringing your family nutrition you can count on with prices you feel good about.
Please reach out to our team of moms, caregivers, and European baby formula experts to help you choose the formula stage that best suits your littles one's digestive and nutritional needs.