When choosing a baby formula that is the perfect supplement or substitute for breast milk, one of the features parents and caregivers consider is the taste.
For each individual little one comes unique preferences, so where do parents and caregivers begin to find the best tasting baby formula that will fit their infant's nutritional and digestive needs?
American Baby Formula vs European Baby Formula
Finding the best tasting baby formula begins with a careful examination of the ingredients.
American baby formulas typically contain a long list of ingredients, with non-lactose based sugars often found at the top of the list. Used to give baby formula a sweeter taste, this controversial ingredient is known to be habit forming and detrimental to an infant's health.
So why would American baby formula companies risk your child's present and future health by adding sugar in baby formula to make it sweeter? The short answer is money. Primarily owned by pharmaceutical companies, American baby formula companies use added sugars such as corn syrup, because it is cheaply sourced and manufactured.
American baby formulas also contain artificial flavors, GMO ingredients, and synthetics that are not only toxic to an infant's growth and development but give most American baby formulas an awful smell and taste.
European baby formulas on the other hand, strive to be more like breast milk in taste and nutrition. Organically sourced lactose's are used as the main carbohydrate to sweeten the European baby formula and support your little one's growth and development while adding a sweet mild taste babies love.
European baby formulas will never contain artificial sweetener, flavors, synthetics, or GMO ingredients. By using only pure and clean ingredients your baby gets a taste that is naturally pleasant with a perfect amount of sweetness.
Best Tasting Baby Formula - Whole Milk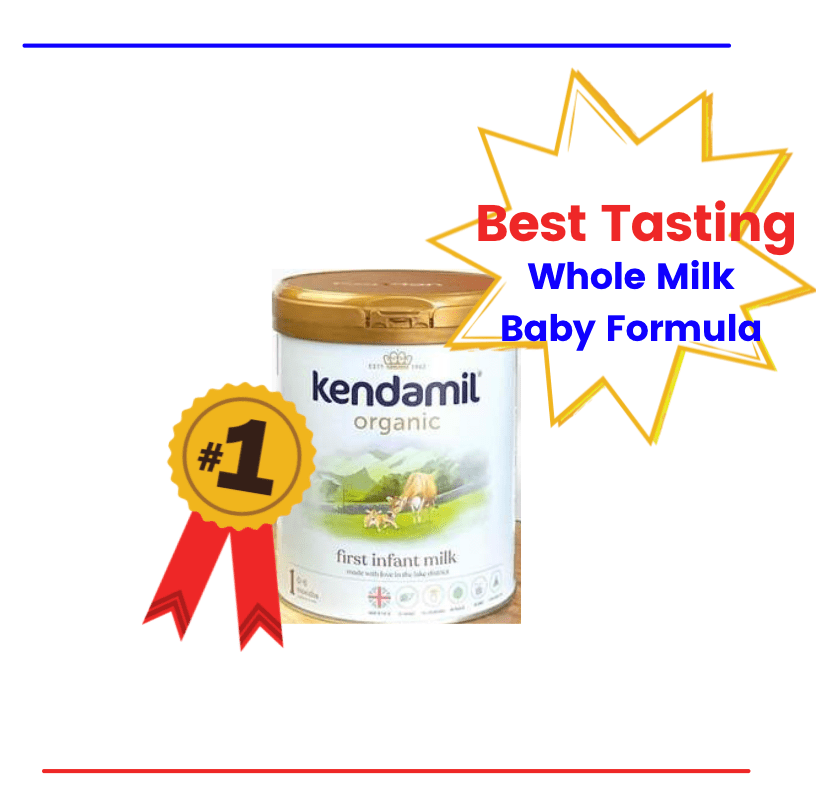 Kendamil Stage 1
Age:   0-6 months
Size:   800g / 28.22oz
Why Choose?
Whole Milk option with MGFM, DHA/ARA from Algae Oil instead of Fish Oil, No Palm Oil
For 58 years the family owned and operated Kendamil has gone above and beyond to place your infant's nutrition first by providing the gold standard in infant nutrition.
Using only the best in whole milk from organically farmed Jersey cows and goats, Kendamil baby formulas have a great taste and texture that babies love.
Best Tasting Baby Formula - Skim Milk
Loulouka Stage 1
Age:   0-6 months
Size:   900g / 32oz
Why Choose?
Perfect formula to start your baby on or supplement breastfeeding
Since the founding, Loulouka's focus has been to make no compromises when it comes to baby formula. From farm to production this European company is a leader in animal husbandry and sustainability while maintaining an unsurpassed quality of organic nutrition.
Loulouka is based in Switzerland which is known to have the highest standards in the treatment of cows. They only use skim milk from organic cows and Swiss raw materials to make the smoothest and mild tasting skim milk based baby formulas.
Can You Add Flavor to Baby Formula?
All European baby formulas have a perfect balance of fats, carbohydrates, and natural vitamins and minerals. With each carefully designed scoop of baby formula, parents can be sure their little one is receiving the best nutrition for healthy growth and development.
We strongly recommend against adding any flavor to your baby's formula as it may add known and unknown dangerous ingredients, sugars, or calories.
These additives can have mild to severe consequences on developing bodies, minds, and sensitive digestive systems.
The Perfect Bottle of Baby Formula