With so many baby formula brands competing to create a formula that best mimics the nutrition in breastmilk, finding the perfect baby formula for your baby can be overwhelming at best. To make things more complicated, European baby formulas have recently made a huge impact on American parents and caregivers.
To help get you closer to the baby formula that will fit your baby's nutritional and digestive needs, we will take a closer look at the European brand of baby formula that supplies the British Royal Family vs more well-known American brands.
Kendamil Baby Formula Vs American Baby Formula
Kendamil Baby Formula
Kendamil is the only infant formula currently made in the United Kingdom. When other brands decided to leave the area to cut costs, Kendamil baby Food Company stayed to support local families and farms.
Building on over 58 years' expertise in infant nutrition, this family run business relies on world-class U.K. organic farms to supply their gold standard baby formulas. Farming and producing baby formula locally allows Kendamil traceability, sustainability, and knowledge during every step of the process, from planting to formula.
American Baby Formula
 In stark contrast, American baby formula manufacturers are owned, operated, and marketed by pharmaceutical companies. Most of the more popular American brands have changed hands or sold multiple times, each time making the move for money over the health and safety of babies.
European Organic vs American Organic
Kendamil's organic formulas are certified organic by the EU standards. When parents and caregivers see the difference European organic vs American organic standards make in their little ones' baby formula, it is easy to understand the recent popularity of Kendamil and other European baby formulas in the United States.
The makers of Kendamil baby formula follow organic farming methods that are holistic and eco-friendly. Kendamil farming practices take into account every aspect of animal health and husbandry, even the smallest detail of planting to harvest and the economic and long term social aspects of local farmers.
To achieve EU organic certification, Kendamil is required to:
✓ Never use GMOs
✓ Never allow hormones or steroids to be added or used on animals
✓ Never use preservatives or synthetics at any point of the process
✓ Only allow antibiotics to keep animals healthy
✓ Use a minimum of 95% of organic ingredients
✓ Feed cows and goats a 100% organic grass diet
✓ Use multiple quality checks from soil to production
American baby formula organic regulatory agency is the Food and Drug Administration. Unlike European organic standards, the FDA policies do not specifically exclude the use of lab-made nutrients and preservatives from eligibility in baby formulas.
Unfortunately, these weak standards allow for certain unethical formula manufacturers to include these ingredients in their products. You will often see these ingredients labeled as healthy and needed in our body, but the sourcing of those ingredients are not natural and therefore cannot be considered truly organic.
Some of synthetic ingredients that are allowed in American baby formulas, but have been banned by the EU are:
X Ascorbyl palmitate
X Beta carotene
X Lutein
X Lycopene
X L-methionine
The very basic FDA guidelines fall short when it comes to laying out exactly what is allowed during the manufacturing process. Restrictions on the way carbohydrates, proteins, and fats can be included in products are very vague and allow for more unwanted toxic ingredients in American baby formulas.
The FDA does have limits on heavy metals in baby formula, as well as set limits for chemicals, fillers, and unnatural preservatives used during the manufacturing process. Unfortunately, we have seen a blatant disregard of these rules, which have led to a dangerous level of poisonous ingredients into American baby formulas.
Animal Milk in Baby Formula
Kendamil cows and goats are grazed outdoors in organically tended pastures with access to indoor housing and milking twice per day. This provides a stress-free environment and a healthy diet.
Kendamil uses only full cream cow and goat milk to make their baby formulas richer in healthy fats and vitamins. Due to the full cream recipe, Kendamil is able to use less vegetable oils and avoids palm oils for sensitive babies and parents that prefer to leave this ingredient out.
Kendamil takes great pride in every detail of animal raising down to selecting the very best breeds.
Full Cream Vs Skim Milk-Taste Difference
Have you ever accidentally or on-purpose tasted the formulas you feed your baby? Many parents complain about how gross the formula tastes, and how bad they smell. Just because they are babies, doesn't mean they need to have nasty tasting formulas.
The use of full cream in Kendamil baby formulas makes a difference in not only nutrition but also taste. Kendamil's whole milk-based formulas are uniquely sweet without added sugars and have a rich and creamy taste that babies love and parents truly appreciate. Plus, they smell pleasant as well!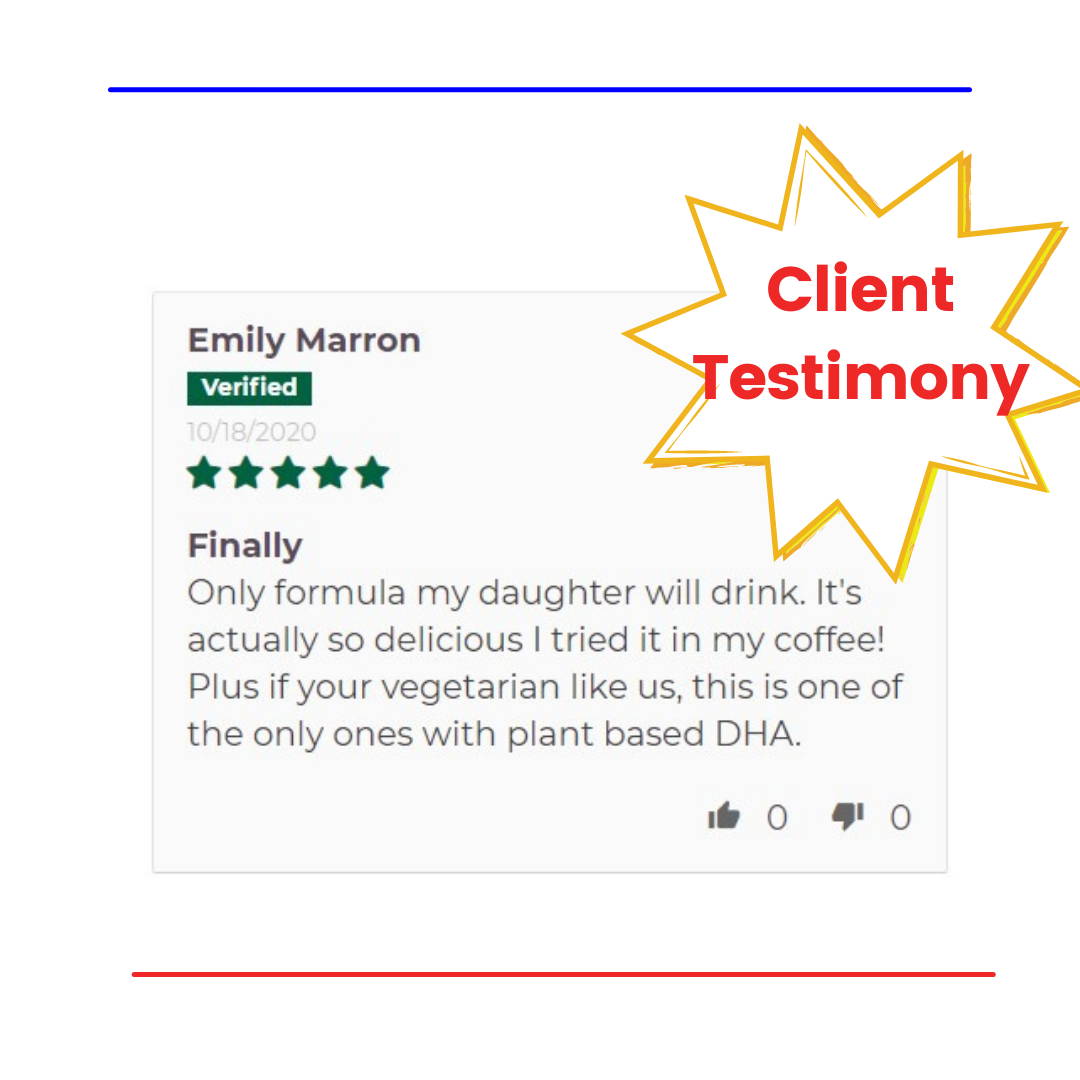 Cow's Milk-Based European Baby Formula
Kendamil cow's milk comes mostly from English Jersey cows. Renowned for containing the highest percent of milk fat in the world and the highest nutrition per unit of volume of any cow in the world, Jersey cow milk contains more protein, calcium, and butterfat than other cow breeds.
Jersey cows produce mainly A2 milk, which constantly is proven less likely to be associated with digestive discomfort when compared to A1 milk. By using full cream Jersey cow milk, Kendamil is able to provide a more natural fat source of Milk Fat Globule Membrane (or MFGM), as identified in breast milk. MFGM has been shown to improve infants' cognitive development and gut health.
To make sure Kendamil infant formulas are pure and ready for your infant, Kendamil's cows will only graze on pesticide and chemical free pastures. Furthermore, following UK standards, growth hormones and daily antibiotics are forbidden in European baby formula.
#1 Whole Milk Baby Formula
Kendamil Stage 1
Age:   0-6 months
Size:   800g / 28.22oz
Why Choose?
Whole Milk option with MGFM, DHA/ARA from Algae Oil instead of Fish Oil, No Palm Oil
Cow's Milk-Based American Baby Formula
In stark contrast to Kendamil baby formulas, American baby formula companies primarily use skim or partial fat A1 cow's milk that lack the natural energy sources and special nutrition needed for healthy growth and development.
The A1 milk used by American baby formula companies can be extremely hard on developing digestive systems and gut flora. A1 milk often leads to tummy troubles and unhappy babies.
American dairy cows live most of their existence confined to small spaces and injected with antibiotics and hormones so they produce more milk faster and to prevent them from getting sick in the unclean environment. Even the American "organically" raised cows only see grass pastures for minutes a day and then are supplemented with low quality corn and soy based feed.
Filled with chemical fertilizers and pesticides, American grazing fields can be more detrimental than helpful when it comes to adding healthy nutrition to your infants' bottles.
Goat's Milk Based European Baby Formula
Kendamil goat milk-based baby formulas continue with the founder's mission to not only make the welfare of animals a priority, but also to ensure that the ingredients used to make Kendamil goat milk baby formula are as close to nature as possible.
Working directly with farmers allows Kendamil to know every goat in their supply chain. These gently raised goats are cared for with the same organically thoughtful philosophy as the Kendamil cows.
By keeping the goat farms in the UK near the production factories (which run on 100% renewable energy) Kendamil is able to ensure the highest quality in sustainable, ethical, and traceable standards.
Kendamil goat milk formula is a unique recipe that is A2 milk based, which is easy on an undeveloped digestive system. Kendamil goat milk also contains natural selenium and prebiotics similar to what is identified in breast milk. These properties help support your little one's developing immune system.
As with all Kendamil baby formulas, this gold standard cow's milk alternative uses lactose as the main carbohydrate and will never add unwanted sugars, chemicals, GMOs, or preservatives.
Kendamil Goat Stage 1
Age:   0-6 months
Size:   800g / 28.22oz
Why Choose?
A2 Whole Goat Milk, No Palm Oil, No Fish Oil, Vegetarian Friendly, HMO's
Benefits of Goat Milk Baby Formula
Similar to breastmilk: Goat's milk formula has oligosaccharides that mimic breast milk. These properties act as a natural prebiotic making digestion and absorption easier.
Vitamins and minerals: Compared to regular cow's milk, goat's milk naturally contains higher levels of vitamin A, vitamin C, magnesium, and calcium.
Nutrition for lactose-intolerance and allergies: Goat's milk formula is less likely to be troublesome for the babies who have a sensitivity or intolerance to cow's milk proteins.
Easy on digestion: Goat's milk formula protein forms a smaller, softer, and naturally easier to digest curd.
Kendamil goat milk baby formula is special nutrition that parents depend on to relieve digestive problems such as gas, spit-up, and even reflux when caused by a lactose intolerance. Babies find relief within days of the first feeding and parents can rest assured that their little ones get the benefit of Kendamil's gold standard of nutrition.
Goat's Milk Based American Baby Formula
The soy industry in the United States makes it very difficult for a good quality American goat milk-based baby formula to be produced. This cheap and toxic ingredient is overused and under regulated, especially in American baby formula.
The biggest danger in soy-based baby formulas is the phytoestrogens (plant estrogens) found in all soybeans, organic, conventional, or GMOs. Although phytoestrogens are not exactly identical to human estrogens, they are close enough to cause significant hormone disruption. This break in the normal infant developmental cycle adversely affects the infant's body and brain. Soy given regularly to infants has also been linked to changes in hormonal releases and puberty growth during the adolescent years.
We strongly urge you to consider using soy-based baby formulas as a last result.
Once again, American baby formula companies work hard to only source ingredients that are better for their bottom line. No matter the health implications. American baby formulas mostly use soy as the vegetarian alternative.
On the other hand, Kendamil uniquely sources their Omega-3 DHA from plant based pure marine algae and zero fish oil.
By going straight to the source, Kendamil is able to provide the only whole-milk non-allergen, non-toxic essential DHA and ARA which also uniquely makes Kendamil a safe alternative for vegetarians.
Comparing Kendamil vs Popular American Brands
With all of this in mind we are providing you a quick glance at the ingredients and properties of Kendamil as compared to popular American organic brands with similar make-up.
Kendamil Vs. Enfamil Enspire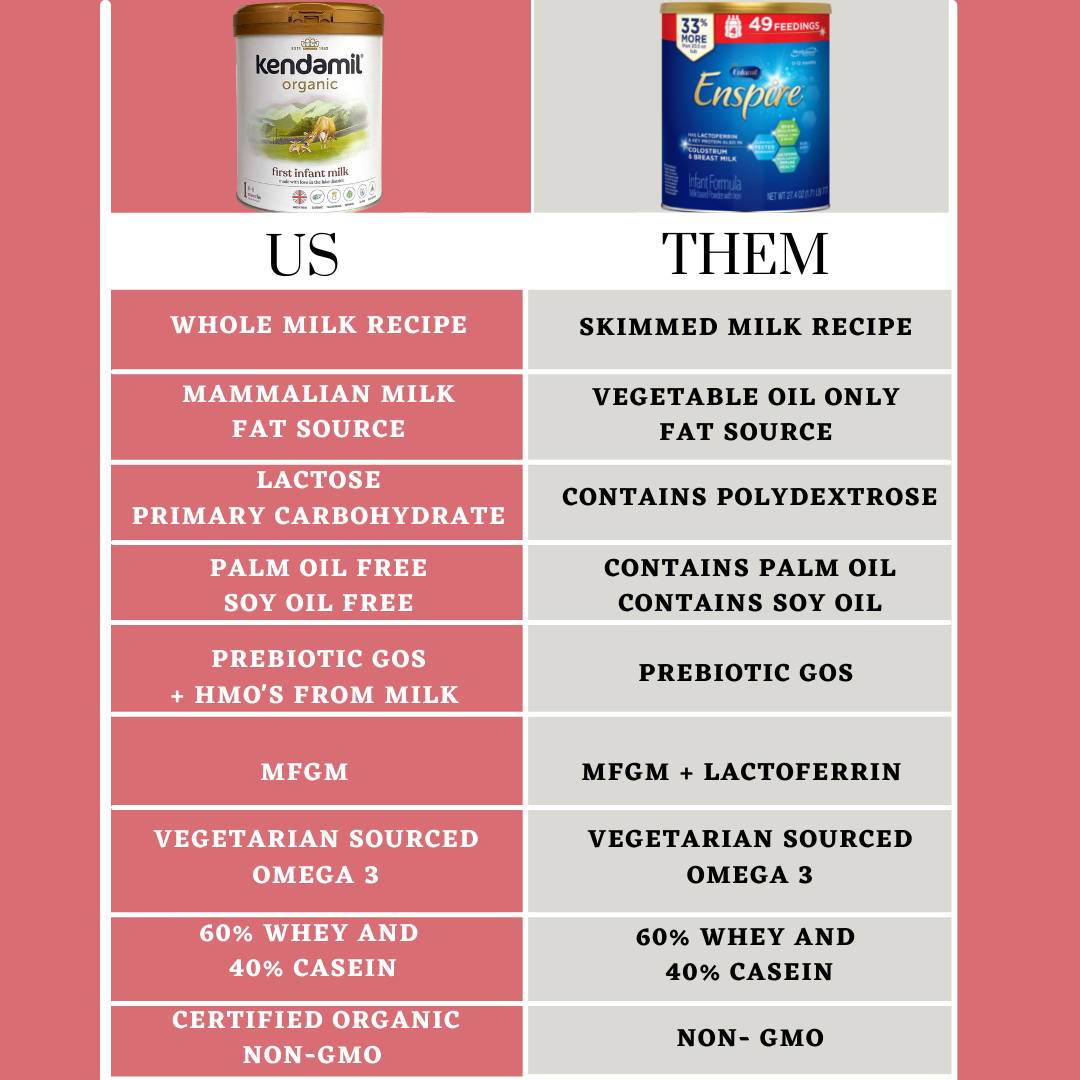 ---
Kendamil Vs. Similac Pro Advance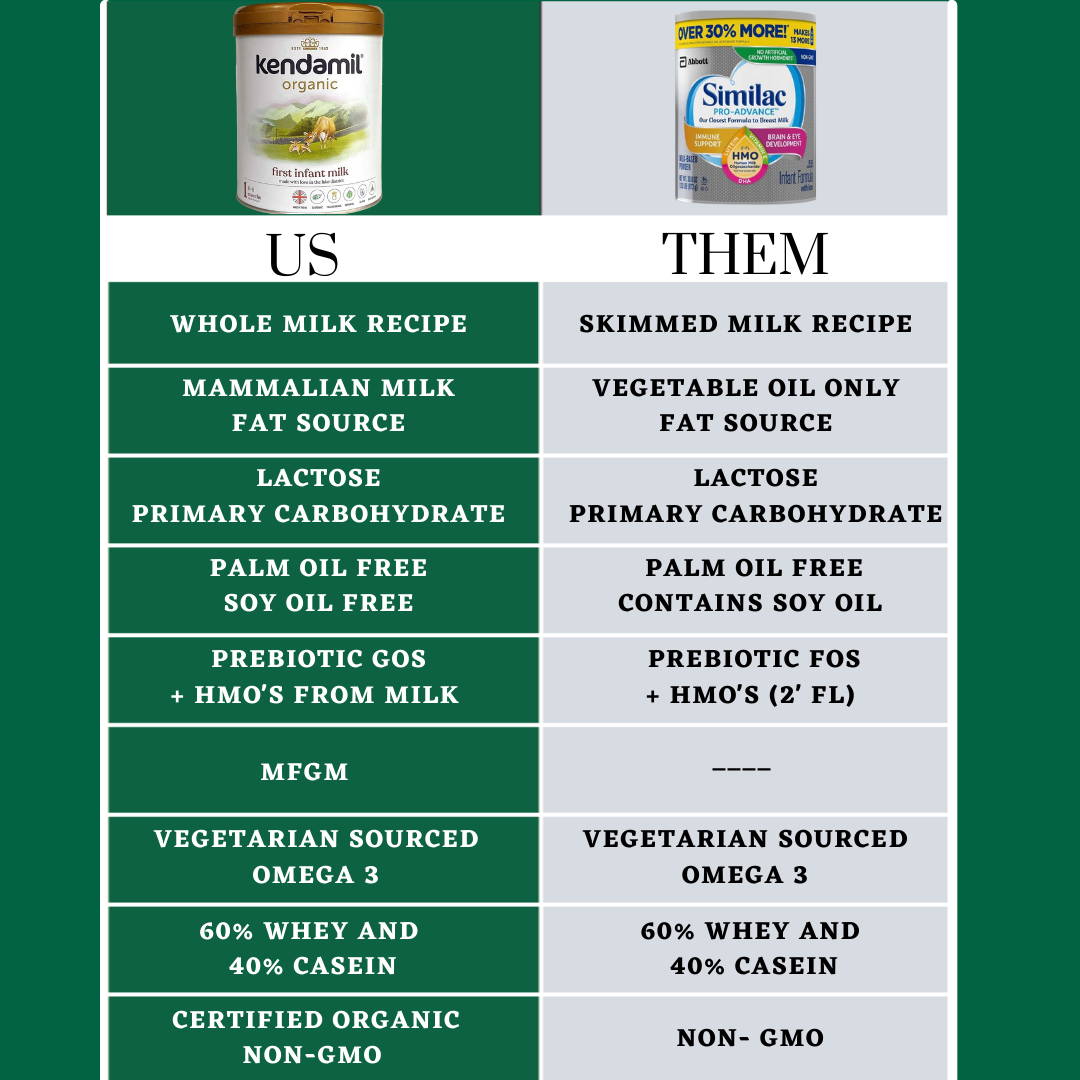 ---
Kendamil Vs. Happy Baby Organic
---
Kendamil Vs. Baby's Only Organic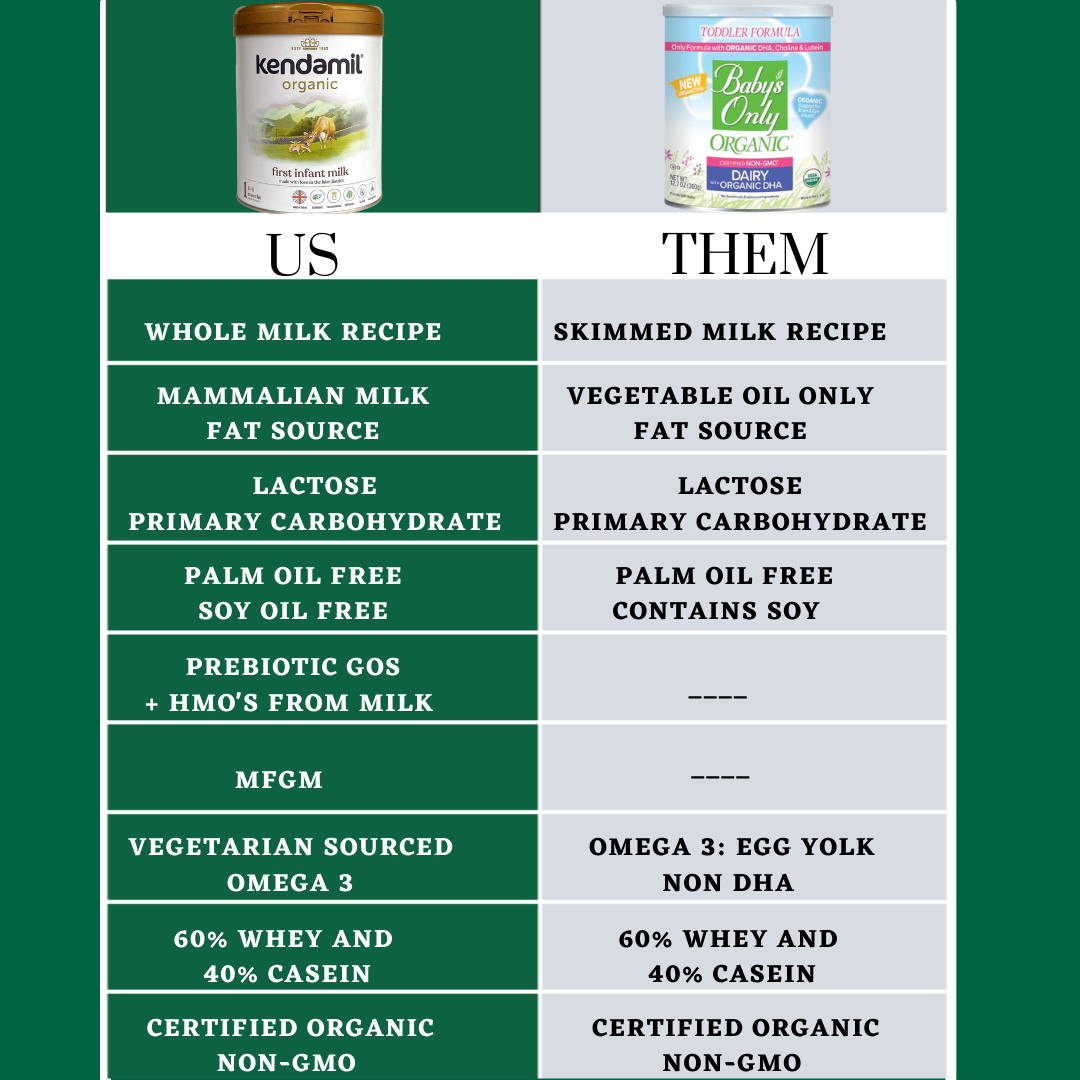 ---
American Baby Formulas vs European Baby Formulas
When it comes to Kendamil European baby formula vs American baby formula, hands down the plant based organic nutrition of Kendamil comes to the forefront. With ingredients that closely mimic the wholesome clean make up of breastmilk, this gold standard in European baby formula is the best of the best.
My Organic Company is proud to carry both Kendamil cow milk-based baby formula and Kendamil goat milk-based baby formula to meet all the nutritional and digestive needs of your little one.
For in depth information on all of our European Baby Formulas, please sign up for our twice weekly emails found at the bottom of our homepage. We will send you the latest news and articles as well as up to date prices and coupons we have available.